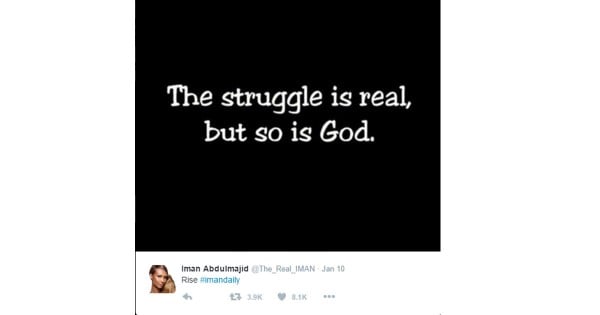 The world mourns the death of David Bowie; shrines have appeared in his birthplace Brixton and outside his New York home, and social media is awash with emotional tributes from fans.
There were also commemorations from his famous friends and collaborators, such as Yoko Ono, who described Bowie as "close as family", or Iggy Pop, who called him "the light of my life".
It was Bowie's actual family, though, who gathered by his bedside during his illness and were there when he died.
Bowie and his wife Iman, born Iman Mohamed Abdulmajid, 60, were married for 23 years and shared daughter Alexandria "Lexi" Zahra Jones, 15.
He once said, "You would think that a rockstar being married to a supermodel would be one of the greatest things in the world. It is."
Bowie knew he wanted to marry Iman the moment he set eyes on her, in a fashion magazine.
"I want to meet that girl! I want to meet that girl right there!" he told Andrew Belew, a musician in his band.
"I guess if you're David Bowie, it's not so hard to do that," Belew told People.
When her husband died on Sunday, Iman posted on her Twitter and Facebook accounts, "The struggle is real, but so is God."
In the lead-up to Bowie's death, Iman posted other inspirational quotes, which, in light of Bowie's secret 18-month cancer battle and subsequent death, take on a deeper poignancy.