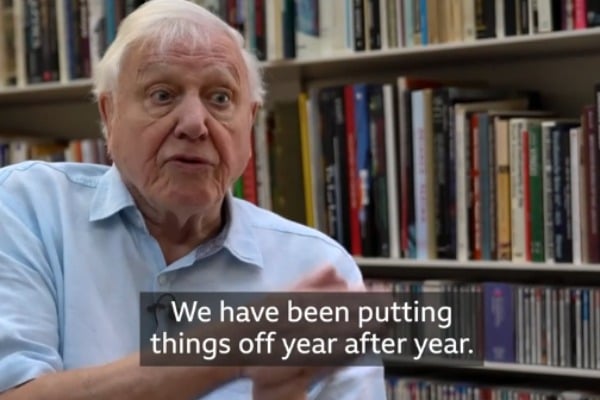 "We've been putting things off, year after year."
Even the first line of David Attenborough's climate change warning hits home.
We in Australia are feeling this particularly, given the current devastation we're facing. Dozens of human lives, millions of hectares of bushland and more than a billion animals – all wiped out in a horrific five months of unrelenting bushfires.
"The moment of crisis has come," said Attenborough in a BBC interview overnight.
Here's a snippet. Post continues after video.
"We've been raising targets and saying 'Oh well, if we do it within the next 20 years.'
"[But] we can no longer prevaricate, we can't go on saying, 'But there is hope and we'll leave it till next year.' We have to change," he said, adding that optimism and appeal just isn't enough and "deliberate compelling life or death decisions" are what is needed.
Noting the destruction being caused by Australia's wave of bushfires, Attenborough criticised Canberra's approach to climate change, saying the government's support for coal mines showed the world it did not care about the environment.
"As I speak, south east Australia is on fire. Why? Because the temperatures of the Earth are increasing," Attenborough told the BBC adding that it was "palpable nonsense" for some politicians and commentators to suggest our fires weren't due to the heating of the planet.