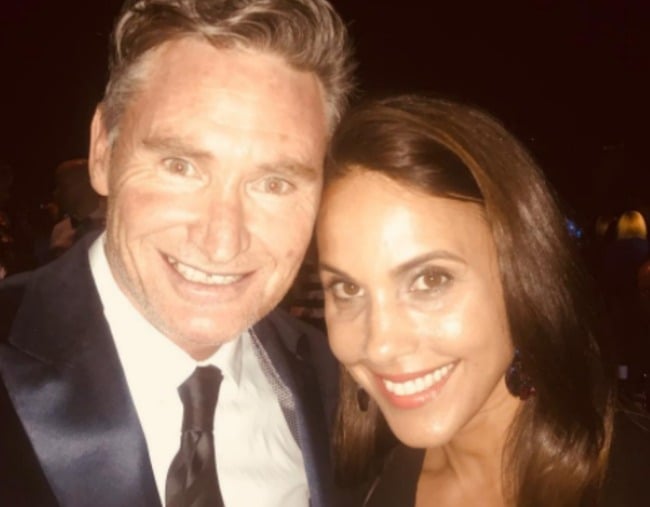 The winning property on The Block has a familiar new owner.
Comedian and radio host Dave Hughes bought Josh and Elyse's renovated five-bedroom Elsternwick house for $3.067 million, almost $450,000 over the reserve price.
The 46 year old is calling it a "forever investment" but his wife Holly has heard it all before.
Speaking to KIIS 101.1 Matt & Meshel this morning, the national KIIS network's Dave Hughes joked his wife was "mortified by the whole thing".
"It embarasses my wife, she is slightly mortified by my whole process," he said.
This is not the the first 'unplanned' property the comedian has spontaneously put his hand up for. In fact, the family are currently living in one, just around the corner from the new property.
According to Australian House and Garden, Hughes was on his way to a house inspection in 2010 when he passed another auction happening in the same inner-Melbourne neighbourhood.
Seeing it as a good way to kill some time, he made some bids "for fun" before finding himself the last one standing. He then had to call his wife to explain his newest impulse purchase.
After renting it out for a year, the couple then decided to start from scratch and build their dream family home on the land.
"The plan was to design a house that would grow with us as a family. The room that is currently a playroom will become a second living space for teenagers," Holly told the magazine.
Interestingly, she had just one request for him about The Block house – if he did buy it, not to tell anyone. Oops.
Joking it was the "world's most expensive man cave," Hughes said it was a spur of the moment decision.
"It was right then [at the auction]. I'm a tyre kicker. On Friday night I organised a buyer's advocate and the auction was on Saturday," he said.
"I was behind the camera so you couldn't see me, I was standing next to Sam Wood, he didn't get in camera either, I said 'Mate, I've got a chance here I think'.
"When the bidding wasn't as hot as I thought it was going to be, I had a chat to my guy Greville Pabst [Buyer's advocate and one third of The Block's buyers jury], I said 'I think we're a chance here' and he said 'I think so too', so we hadn't bid yet, he was the last person to put his hand up so.."
He said he thought it would go for a lot more.
"I look at a lot of real estate in Melbourne because that's my hobby and I reckon The Block put people off rather than put them on it. In my mind, I've got a bargain. This was the best house."
"It's a good street, it's going to be a great street forever. Obviously it's a lot of money but I just think that area is going to continue to improve, even though it's already really good," he told Domain.
"I want us to own that property for 20 years basically so it's a long term investment. We might move in there eventually but we'll rent it out for a start."
"It is a brilliant house in a brilliant spot. The value here is incredible I reckon. This house will stay in our family forever," he said.
"Elyse and Josh did a great job. The quality of the build and the orientation and it is in a beautiful part of Elsternwick."

The Mamamia Out Loud team deep dive on everything women are talking about this week: from marriage rules and menopause, to mental health and Mark Latham.