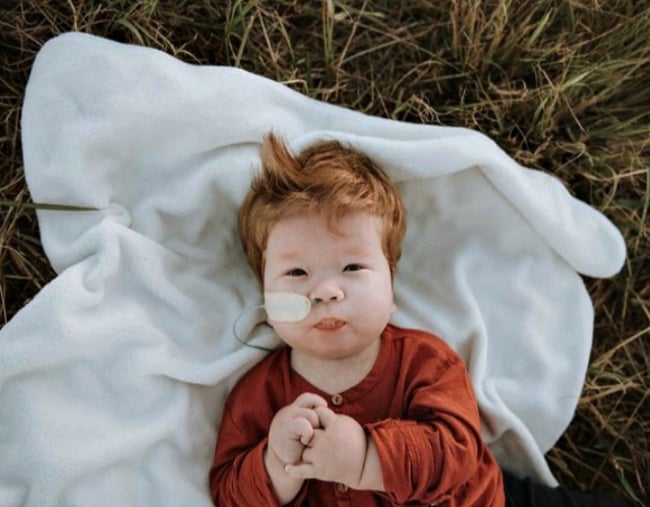 I have been a stay-at-home mother for three years now, to two beautiful children, Indiana, 2.5 years, and Darcy, 11 months.
My partner Matt is a hard-working tradie and prior to our children, I was working as a primary school teacher.
Our little boy, Darcy, is defying all odds, living with a rare, overall undiagnosed condition. He has severely complex health issues that are affecting and limiting his everyday life. And we need your help.
This is our story.
***
In January 2017, the three of us were away on holidays for the weekend.
I was seven weeks pregnant with our second child, when I was taken to hospital in the middle of the night in a critical state. When we arrived, an ultrasound was carried out and my partner, Matt, and I were told there was no heartbeat and that I was miscarrying.
I stayed in overnight for monitoring and the next day I requested a second ultrasound as I was feeling completely 'normal', and there to everyone's surprise was a perfectly normal, healthy heartbeat. Several doctors came in to examine, and stated they had never seen anything like it; they were speechless.
One word – miracle.
This is when we knew, right from the beginning, that our baby was someone special, that he was going to be on this earth for a reason.
I went on to have a very normal pregnancy. I was doing everything I could to ensure my baby would be as healthy as possible, as I did with my first pregnancy.
Over the next few months various tests were undertaken to ensure our baby was developing and completely healthy after the miscarriage scare. I was having fortnightly and weekly scans throughout my pregnancy and in my third trimester, concerns were raised by my obstetrician that our baby could possibly have some heart issues.
We went on for further cardiac specialist testing with all tests coming back normal. The ultrasound also appeared normal and there were no other concerns.