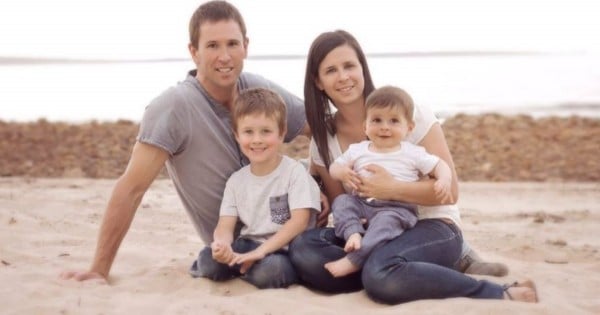 Today Australia is chattering about two men.
One of them is a foolish sportsman who has offended with a bad attitude and some loose words.
The other man killed two tiny children.
The perceived slights of one pale into ridiculous insignificance against the actions of the other, but still, they have been jostling for top spot on our news sites all day.
The murderer has appeared under headlines like DAD'S DEATH DIVE and DAD LEFT SUICIDE NOTE BEFORE DEATH PLUNGE – stories that fail to acknowledge what we're really looking at when we see those images of a hulking, white station wagon being winched from chilly waters.
It's not a story about a "doting father" who did something "out of character". It's about a man who murdered two small children, and also killed himself.
Damian Little had a choice whether to end his life on a pier in the pretty coastal town of Port Lincoln yesterday. He left a lengthy suicide note online early yesterday morning, stopped at McDonalds for a drive-through coffee and then drove his inescapable car into treacherous waters.
He chose to die that day.
Little Koda and Hunter Little did not. Strapped in the back seats, they chose nothing.
Tiny children don't get to make choices. Their lives are at the mercy of the adults who love them.
Their safety entirely depends on the sanity and intention of others.
It's an awesome responsibility. And when it is violated, it leaves only horror behind. Horror and disbelief.
This should have been the month that Koda, 4, was preparing to start school. These should be weeks filled with sensible shoe-shopping, and uniform trial runs, and damp eyes over how a little baby had become a schoolboy, so fast.
It should be the time that little Hunter, not quite one, was wobbling around after the big brother who doted on him. It should be a month of family time – as January is for so many Australians – for time spent together before reality and separation starts over in February.
Perhaps, before yesterday, it was. We will probably never know exactly what happened to set the motions of a murderer in train in the early hours of a quiet January morning.
The tiny details are heart-breaking, and incomprehensible.  The black-netted sunshade, so familiar to parents of little children, was still fixed to the rear window of the station wagon as it was pulled from the water. The carefully chosen cuddly toys left at the water's edge in memory two small lives.