Like any national, breaking news, it is always fascinating to see how the major newspapers across the country choose to cover it.
Prior to federal elections, we analyse their front pages to see who they are backing for a win. An athlete winning an Olympic Gold Medal will have papers scrambling for the perfect photo, along with a cliched tagline like, "PURE GOLD".
Following the outstanding win from the same-sex marriage postal survey for the 'Yes' campaign, yesterday, we expected a kaleidoscope of colour and celebration of love to brand our national headlines.
They did, mostly.
The @dailytelegraph were the only News Corp paper to decide to dump on the happiest day of the year for many Australians. pic.twitter.com/anXDtACSk8

— Matt Bevan ???? (@MatthewBevan) November 15, 2017
But, if you look closely, there is one outlier.
The Daily Telegraph.
Rather than joining the festivities, popping their party hats on and throwing a bit of confetti around, they decided this was the best way to summarise yesterday: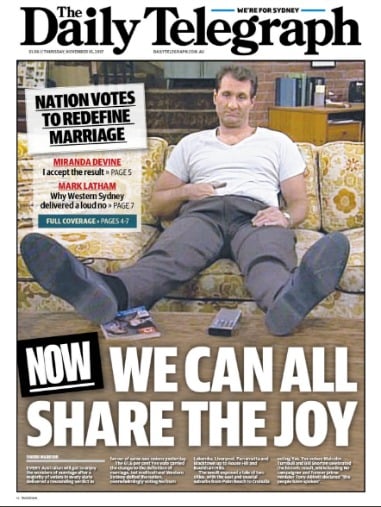 The closest we got to a celebration of winning was in their sport's section:
Thursday's @telegraph_sport back page. That's a big #YES from us for the Socceroos #AUSvHON pic.twitter.com/rJKz5EVmqg

— Adam Mobbs (@AdamMobbs) November 15, 2017
Claiming to be the number one newspaper in New South Wales, DT fell out of line with how their state voted in the postal survey, 58 per cent in favour, and the national tone.
Despite states like Queensland, Tasmania and the Northern Territory criticised as 'backward' or homeland of the conservative, it was their major newspapers that lived up to the hype.
YES and YES! What a memorable day it's been for Australia. Read all about it in tomorrow's @couriermail ????️‍???? ⚽️????️‍???? ⚽️????️‍???? ⚽️ #AUSHON #samesexmarriage pic.twitter.com/KWQElXTipL

— The Courier-Mail (@couriermail) November 15, 2017
TOMORROW'S FRONT PAGE PAYS TRIBUTE TO TODAY'S HISTORIC RESULT pic.twitter.com/blW0kPvF8y

— The NT News (@TheNTNews) November 15, 2017
According to their website, the DT is the "Voice of Sydney" and "has built a proud reputation as a news breaking brand that sets the agenda that the rest of the state talk about".
So, the question is, why is their agenda following such a historic day is Australia's history just so wrong?
Firstly, let's remember this was no mistake of the DT to choose this tone. They haven't just read the room wrong. This was a considered reaction, and it was because of a couple of contributing factors.
It has become more apparent than ever, in the past five years, that this newspaper is unrelentingly conservative. Owned by the Murdoch empire, it pushes stories and opinions that aren't even representative of many Liberal/National supporters. It publishes the far right.
Listen: Australia voted yes for marriage equality! What happens next? (Post continues after audio.)
Along with The Australian, the DT has been a machine for circulating propaganda about the possible consequences of legalising same-sex marriage. They have been responsible for fear-mongering the Safe Schools program, and become home to now-columnist, Mark Latham.
In response to criticism of the front page, Latham said that it was representative of how much of Western Sydney electorates voted, up to 73.9 per cent against in the seat of Blaxland.
Don't be so bloody elitist Kate.
The Tele knows its readers.
So does the SMH: all 5 of them in Balmain.

— Real Mark Latham (@RealMarkLatham) November 15, 2017
The focus on Western Sydney's no response has come under heated debate, with many claiming it was migrants and non-English speaking persons mostly responsible.
Latham wrote in his column for DT today, "The most valid explanation of the Western Sydney result is ethnicity. The more multicultural the electorate, the more likely it is to vote No."
Which, as you can predict, hasn't gone down well. To say the least.
So white ppls who voted no is free speech, religious freedom, and democracy in action but migrants who voted no is failure to assimilate? Cool. Got it. Good work, Australia. From homophobia to racism in 0.3sec, that must be a new record!

— IndigenousX Pty Ltd (@IndigenousXLtd) November 15, 2017
The Blaxland takes are particularly dumb because even if you assume *every* Muslim in the electorate voted No, that still leaves an additional 45% of the electorate as No voters. Much higher than national average.

— Osman Faruqi (@oz_f) November 15, 2017
Without bogging us down in the politics of Western Sydney, it's important to remember the complexity of their electorates. As Professor Andrew Jakubowicz points out in an article for The Conversation, the impact of the Safe Schools rhetoric seems to have impacted the tight-knit religious community, not only Muslim ones, more than non-religious. Further to that, there was also a correlation between no responses and high rates of unemployment. 
Now, to the greatest irony of the DT's front page and their unsubstantiated claims that multiculturalism caused a 'No' vote, they still decided to put the epitome of a stereotypical white man on the cover of their front page.
Because this guy really resonates with Western Sydney and NSW: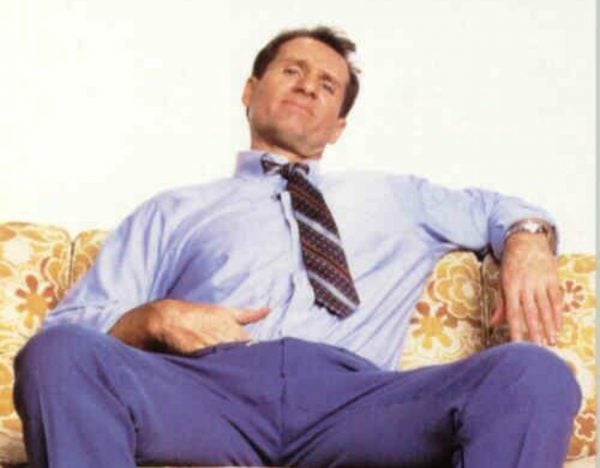 Al Bloody Bundy (from TV show, Married... with Children). 
I can also bet that half of the people who saw this paper had to either, a) Recalibrate themselves that some sitcom star from the 80s was on a 2017 newspaper, or b) Work out who the hell he was.
I just had to explain who Al Bundy is, why he is linked to marriage, why his hand is down his pants, and when "Married... With Children" aired, to a younger staff member, a truly historic day

— Angus Livingston (@anguslivingston) November 15, 2017
Perhaps during all this confusion, it is best to remember that Al grew up on TV, talk his hand out of his pants, and ended up walking his gay son down the aisle.
— Emily Hawker (@emhawkerblog) November 15, 2017