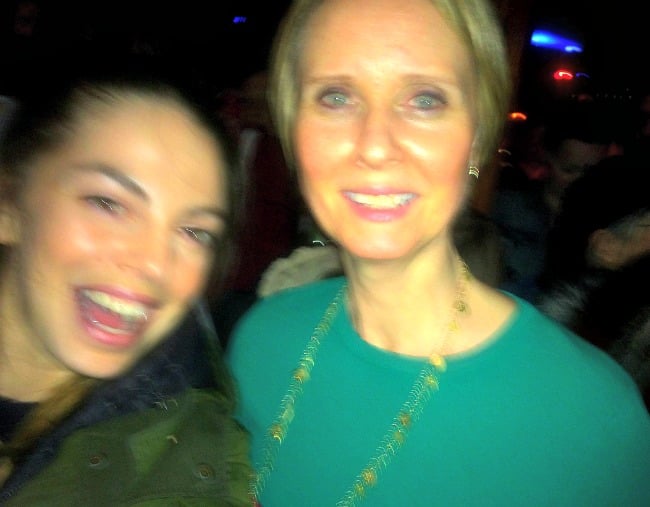 Deciding to go to the launch party for Cynthia Nixon's campaign to become the Governor of New York, I knew it would be far, far removed from the sunny, political sausage sizzles of back home in Australia.
But I never anticipated the chaos or the bruises. I also didn't expect to end my night taking a semi-drunken selfie with the former Sex and the City star, the governor-hopeful herself.
But first, let's set the scene. The launch took place in a dark, dank wooden bar called Stonewall Inn in New York's West Village. The location is important: It's where the LGBTIQ community first fought back against routine police raids in 1969, triggering violent riots and serving as a launch pad for the swelling gay rights movement.
All of us are wet. Thirty centimeters of snow has fallen during the day and there is a proud sentiment among patrons there to see Nixon: "We're braving the storm to rally for her; she's braving the political gauntlet to fight for us," the temperature reads.
The appointment to state governor would see Nixon, 51, best known for her role as Miranda in Sex and the City, in charge of legislature for the state of New York. She'd be the commander-in-chief of the state's military and naval forces. Her title would read, 'Her excellency'.
The people around me are a solid mix of men and women – though there are more women. "Are you British?" the arm-band-manager asked me when I arrived and paid my donation. There are people old and young. Black, White, Asian, South American, European, British, Australian.
It's an hour-and-a-half into the event and Nixon is nowhere to be seen. But no one in the crowd – friendlier than New York in general – expects that she should be. The woman next to me is talking about menstruation. People behind me are handing out peanut butter cookies.
The conversations about Nixon are equal parts earnest and hopeful. The level of awe around her celebrity and candidacy – because the two are entirely intertwined – is not like anything seen in Australian politics.
Her public persona as a feminist lesbian – a mother-of-three, too – gives people confidence she will make huge, positive changes as New York's Governor.
"I just love her," one woman says next to me, reaching for her drink.
Calling all qualified and unqualified lesbians and everyone who wants funded schools, affordable housing & working subways: Join our Campaign Launch Party 3/21 at the Stonewall Inn, 6-9PM. Skip the line, buy your ticket now! https://t.co/orfEB0Qj47

— Cynthia Nixon (@CynthiaNixon) March 21, 2018