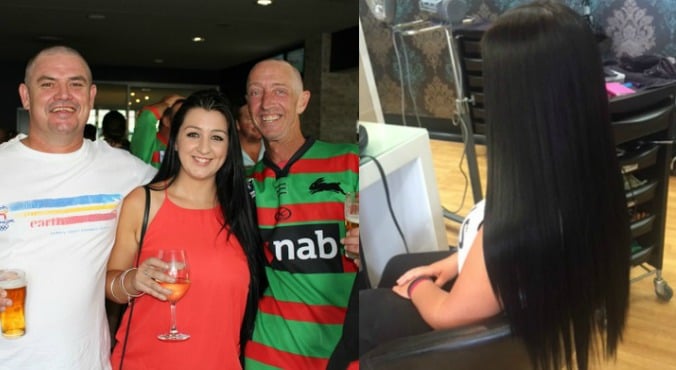 Image: supplied. 
Usually our reasons for embarking on a hair change are due to a break up, new job or new season: this wasn't the case for Kirby.
"About six months ago, I went to see my doctor to find out why one of my breasts would sometimes be bigger than the other," she explains.
"She examined me and found a few lumps so she arranged an urgent ultrasound for me. The ultrasound showed three tumours, so I was referred to a breast specialist who told me that the tumors were benign."
Related: This mum's skin cancer selfie will remind you why sun safety isn't a joke.
After a follow up appointment with her specialist four months later went well (the tumours hasn't grown), Kirby decided it was time to make a drastic hair change – in the name of a good cause.
After losing her "adorable Pop" the year before to cancer, and watching her Nan battle the disease, Kirby decided to use her haircut to raise money for Hunter Medical Research Institute and then donate her chopped hair to Pantene Beautiful Lengths.
Kirby raised $10,000 and chopped off 43 centimetres. And we think you'll agree that the results were beautiful all round. (Post continues after gallery.)
Kirby's Hair transformation
 How long has your hair been the way it is now?
"I can't remember ever having short hair. It has been shorter than it is currently but it has always been classed as long hair, even in all my primary school photos I had long pigtails."
What sorts of things were you looking at to get inspiration for your hair transformation?
"I spent a lot of time on Pinterest looking at different shorter hair styles but I didn't really go in with a fixed idea of how I wanted it. I had no idea what I was going to look like with short hair so I was happy to just let Ali cut it off on the day and style it from there."
Who is your hair-muse?
"I loved Kim Kardashian's hair pre-platinum and also Kylie Jenner's once she went short."
How did you describe what you wanted to the hairdresser?
"Because we held a fundraiser to raise money for cancer research, my hair was originally just cut off in five different pony tails by my hairdresser in front of everyone so we really didn't have a choice in the original cut."
"I actually loved the initial result so much that when I went into The Salon Depot the next day to have the style cut completed, I just asked Ali to tidy it up."
RELATED:Why the "Gringe" is a haircut that will make everyone with a fringe very, very happy.
A little more about the fundraiser
"The fundraiser was held at The George Tavern, Greenhills. We held a raffle, silent auctions and also had a DJ and a wine tasting. All money raised went going to the Hunter Medical Research Institute for cancer research."
"Our goal was to raise $6000 to sponsor an individual cancer research program but we smashed that and ended up raising over 10k! A few of the locals from the pub saw what we were doing and decided to get on board. They grabbed a wine bucket and went around the pub to see how much they could raise to shave their heads. They returned with over $500 and Ali ended up shaving four extra heads."
RELATED:Why do women pay double for a haircut?
The Hairdresser - Ali
How long did this transformation take?
"The transformation on the day took about one hour all up. The cut itself was prepared with five pony tails taking about 10 minutes, then the ponies were cut off one by one all in about two minutes. We then did a quick restyle in the bathroom at the venue with some curls."