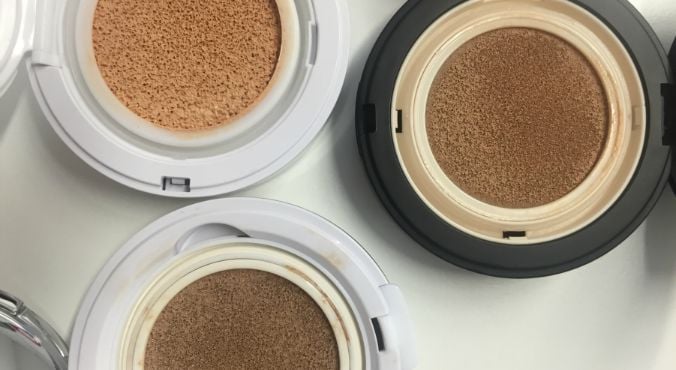 Image: Supplied.
Since they started appearing on shelves earlier this year, cushion compacts have been labelled the next big thing in beauty.
A Korean innovation, cushion compacts are foundations that come with a product-soaked sponge, which is protected by a sealed section. On top, in a separate section, is a powder puff which prevents the puff from becoming saturated and bacteria-ridden.
RELATED: Your cheat sheet to the Asian ingredients taking over your beauty kit
But are they really worth the hype or are they just a passing fad? I put three currently available in Australia to the test.
1. It Cosmetics
I'll admit I was skeptical trying cushion compacts for the first time. A beauty blender-devotee, I was convinced that we'd reached the peak of foundation application and nothing would compare. I was pleasantly surprised.
Renowned for their excellent face products, the ItCosmetics CC+ Veil Beauty Fluid Foundation SPF50+ ($58, available in Sephora) comes in five shades. I have quite pale skin and found that the second lightest shade 'Light" worked well without washing me out.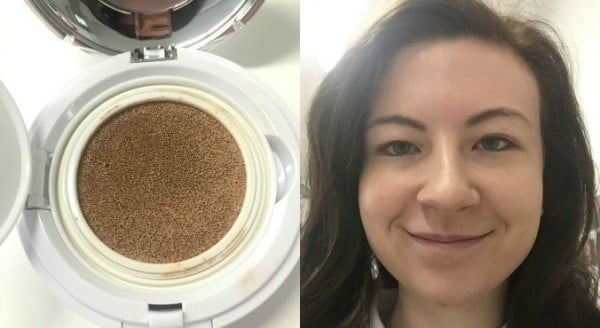 In the compact, the colour generally looks a little darker, but don't worry as it goes on much lighter on the skin. As the name suggests, the formula is a liquid and feels very light.
It doesn't look like the applicator picks up much product, but a gentle press is all that is needed as a little really does go a long way.
RELATED: The biggest foundation mistake women make – sorted
Like a BB cream, the coverage is quite light although does a good job of covering up any redness or imperfections. It's very natural looking and the applicator makes it look very smooth and almost airbrushed on the skin, with a more matte finish than you get with a normal sponge.  (Post continues after video.)
2. Lancôme
Lancome's Miracle Cushion Compact, ($60) was one of the most hotly anticipated cushion compacts to hit the market - and for me, it didn't disappoint.
The compact itself is beautiful and comes with a mirror which makes it the perfect product to slip into your bag and keep with you at all times for touch ups.
The colour (I used 01 Pure Porcelain) looks a little orange in the compact but - fear not - it goes on much lighter and the compact dispenses the product beautifully.
RELATED: The under-eye concealer trick that will help you fake awake
The liquid foundation had a silky and dewy look and went on very smoothly, giving more coverage than I was expecting, lasting well throughout the day.
The only thing I found was that the product collected a little in the dry areas of my face, but applying a tiny bit of primer or moisturiser worked well to combat this. (Post continues after gallery)
Tips for applying foundation.
3. Mirenesse
Offering a medium to high coverage, the Mirenesse 10 Collagen Cushion Compact Airbrush Liquid Powder ($79.50) is a great colour and has a seriously flawless application.
You really don't need a lot, just patting the puff lightly on the sponge gives enough product. It's packed full of collagen and anti-ageing properties and is great at covering fine lines.
The liquid formula dries to more of a powdery look on the skin which makes it long lasting but without a cakey feel. It's also very quick to apply, making this my favourite on-the-go alternative.
RELATED: The 10-second beauty trick to make your foundation match your neck
Verdict
I'm ready to eat my words - cushion compacts are certainly not a gimmick but a really solid foundation option, particularly for day-to-day, travel or on-the-go touch ups. I also think they're some of the best on the market for mature skin, providing ample coverage without looking too done up or cakey.
One common criticism has been the price of the products, particularly because they contain less than a standard foundation due to the sponge applicator.
This is largely because they are new and limited to the higher-end companies, but as they become more popular, we will see some slightly cheaper options on offer as the high-street brands jump on board. They are also refillable which I like.
Have you tried cushion compacts? What did you think?
The best cushion compacts for 2015