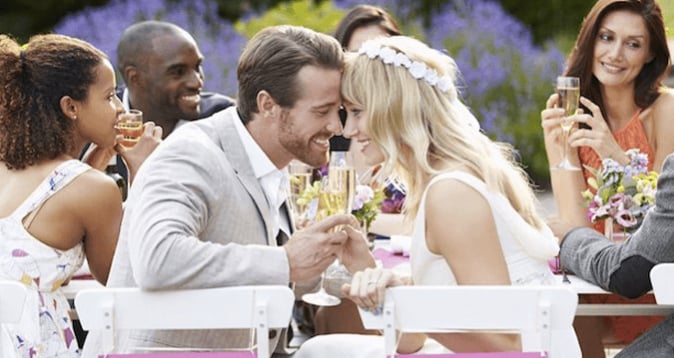 PreGifting is a new crowdfunding site specifically designed to allow guests to pay for a couple's dream wedding.
Announcing a new crowdfunding platform specifically for "I dos."https://t.co/8HdU2MgejZ
via @theknot#wedding #funding pic.twitter.com/GR4bQ1gPKC

— PreGifting (@pregiftwedding) September 22, 2016
It seems… awkward? But it does make quite a bit of sense.
According to the Brides American Wedding Study 2016, the average wedding in the United States costs $26,522. That's a lot of money. A lot of money a lot of couples don't have. But regardless of their finances, a lot of couples still want that dream wedding.
So with PreGifting, instead of registering for a crockpot, couples can register for the wedding itself.
You create a free profile on the site, which generates a campaign link that can be shared with your wedding guests. They can then send a PreGift that, as the site's 'About Us' section says, "will help the happy couple's dreams come true". At the end of the crowdfunding campaign, the couple receives a check.
Then voila: dream wedding.
Cash registries and honeymoon funds are now pretty commonplace, but crowdfunding a wedding is relatively new. Sites like PreGifting, and others like The Crowded Wedding, are cropping up to make the practice a little less, well, dodgy.
Listen: Ask Bossy navigates the minefield that is the wedding wishing well. How much do you give? Can you give a present instead? Post continues below. 
The Knot, which ran an article on PreGifting this week, went on record a couple of years ago saying that for couples to use sites like IndieGoGo, CrowdRise, and GoFundMe to bankroll their nuptials is "not okay". Among other things, they disagreed with this very personal use of sites originally created for charity.
By removing the charity aspect, PreGifting makes crowdfunding your wedding a little less morally ambiguous.
So, you can crowdfund your wedding, but should you?
https://t.co/XA9woQeUX7 is a new crowdfunding site for #weddings only.https://t.co/IIXcEzQgFd pic.twitter.com/dDFC3NTGVt

— PreGifting (@pregiftwedding) September 21, 2016
In a video explaining how PreGifting works, we meet Kevin and Noelle, an animated couple with big dreams of a perfect wedding. The problem is that perfect wedding costs $40,000 and they only have $30,000.
"Option 1 is to cancel the horse and carriage, get daisies instead of roses, and tell Uncle Ted him and Aunt Jane are not invited," the voiceover says. "Option 2 is to PreGift their wedding and get the extra $10,000"
Or, call me crazy, Option 3: plan a wedding you can afford.
Still, each to their own. A wedding is very important to a lot of people, who want it to be what they want it to be.
And if you feel like your guests would happily throw in some money to make your wedding the night you've always imagined, PreGifting is a great option.
This post originally appeared on Spring St. 
Watch the Mamamia team confess to their biggest wedding regret…