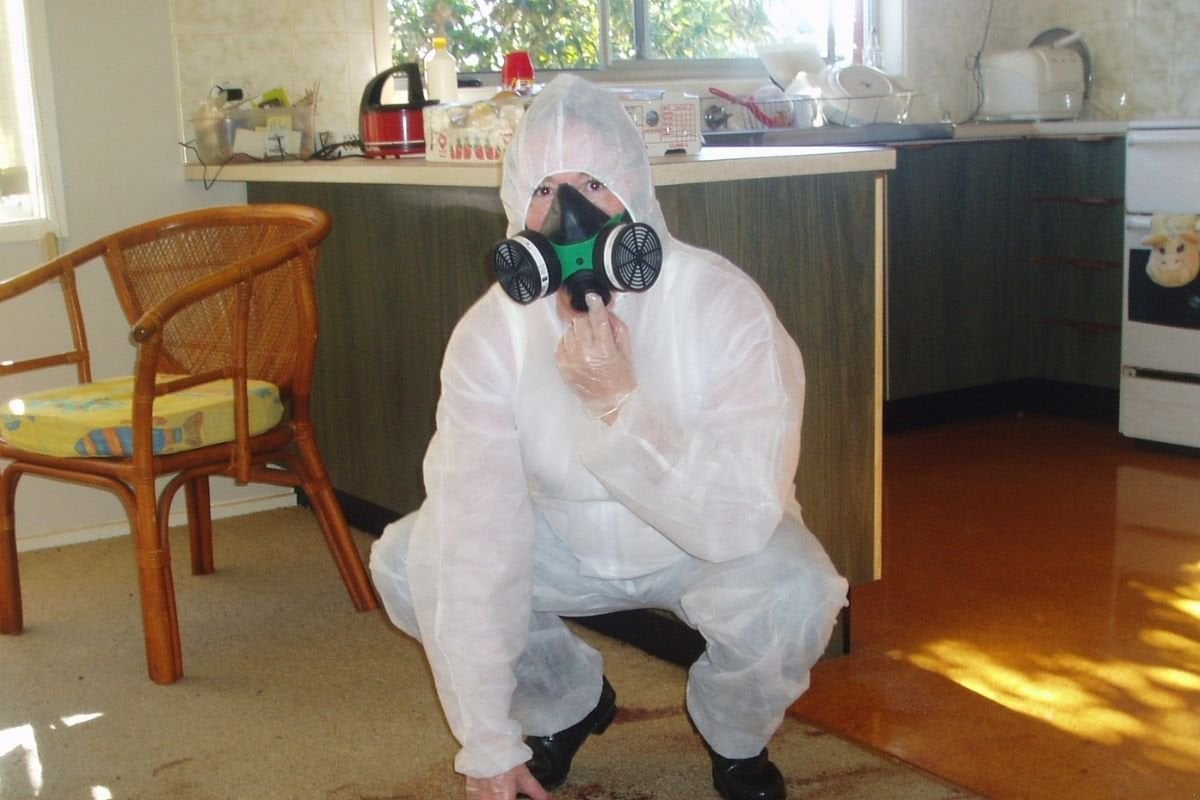 Warning: This post deals with death, extreme descriptions and suicide and may be triggering for some readers. 
Lee Iordanidis will never get used to the smell of death. 
"Go out to the rubbish tip on the hottest day ever and multiply that by a million and you might be getting close," she explained on this week's True Crime Conversations. 
It's a smell she deals with daily in her job as a crime scene cleaner.
Listen to the full chat with Lee below. Post continues.
But don't be mistaken, Lee absolutely loves her chosen career. She's been doing it for 30 years and won't be giving it up anytime soon.
She came to it at the age of 28 after dabbling in hairdressing for a while and not really clicking with it as a profession. She'd grown up unafraid of death with a grandfather who was a gravedigger, and an Irish Catholic religion that taught her death was a natural, normal part of life. 
So, when a close friend died by suicide, and his parents were informed it was up to them to clean up the mess left behind by his corpse, Lee stepped in. She went to Bunnings, picked up a painter's suit, gloves, boots and a mask and got to work. 
"I didn't know if I was doing the right thing... all I knew is that I was getting the smell out. So I cleaned it up and they [his parents] went back in and I thought, 'I've found what I need to do. This is it. I want to be a crime scene cleaner.'"
Lee is in hot-demand. She estimates there's only four people with her credentials in the country and she's been flown not just around Australia, but the world, for her services. While her main workload tends to be suicides and unattended deaths, she's done her fair share of murders.
"I'm never shocked by what I've seen, because I have seen everything and I don't think there's one thing left to shock me," she told True Crime Conversations.
"Some jobs can take you three, four weeks because there's so much to do. You've got to get rid of the flies. You've got to get rid of the maggots. Then you've got to rip up the carpet, then you've got to tear up the wooden floors, or even the cement floors - so you've got a jackhammer and you're taking up cement. Then you've got to check that it hasn't got into the soil underneath the house, because that smell will stay there."