The AFL women's competition is celebrating success early in its inaugural season, but it has a long way to go if it wants to reach the successes of women's cricket.
Not that Australia's best female cricketer, Meg Lanning, would want to pit sports against one another other.
The three-time Belinda Clark award-winner (that's the highest honour in women's cricket) is a firm believer that the more opportunities for women in sport, the better.
"It's just about creating as much opportunity as we can for girls to get involved in sport and play and enjoy it, whether it's at an elite level or not," Lanning says.
The 24-year-old, who continues to impress as captain of the Southern Stars, says cricket has "always been leading the way" in developing professional careers for women.
It's one of the reasons Lanning chose to pursue a career in cricket over hockey, which she played a lot of in her youth.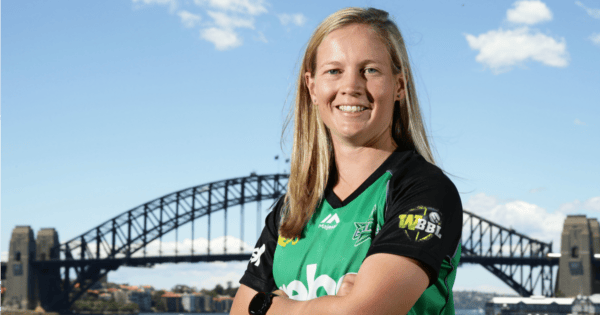 "Cricket's always been the sport that I enjoyed the most... They've provided playing contracts, resources and facilities probably before other sports have so crickets done a great job in leading the way there."
The choice has paid off as the Victorian has been able to support herself as a professional cricketer, a feat that right now can only be achieved by some international female players.
Lanning hopes that will soon change.
"Ideally you'd like to get the professional stage, which we're probably not too far away from at an Australian level, but at a state level is probably where we can make the most improvement. So that's ideally where we'll get to," she says.
Listen: We're loving the brilliant new AFL Women's ad. (Post continues after audio.)
However, it's the other Stars team Lanning captains, part of a reinvigorated domestic cricket competition - the Twenty20 Women's Big Bash League - that is driving momentum to see more women excel in their chosen sport.
"Cricket has been leading the way in that space and it's only going to keep improving, so very exciting for women's sport and young girls coming through," she says of the WBBL's second season.
While the Melbourne Stars were knocked out before the final of the competition, Lanning continued to shine with a whopping 502 runs.
No surprise, really, considering she's currently ranked as the world's best female one-day batsman.
Of course audiences are interested in watching talent like that, but it's only thanks to the promotion of the Big Bash and support from partners that the competition has been able to capture its audience, Lanning says.
"You need that support from networks like Channel Ten and Optus to showcase the sport and actually allow people to see the product because if they don't know it's on or they don't get the opportunity to see it then it's very difficult to grow the brand."
Lanning says Optus's free streaming of cricket games using its Anytime Cricket app allowed cricket-lovers to watch their sport wherever they wanted.
"People just love watching sport, and if you can do it anywhere then that's really helpful," Lanning says.
Lanning says increased viewership, translating to bigger bucks spent on the sport, has resulted in more players being able to focus their attention on cricket - and less on how they're going to financially support themselves.
"Now we're getting to the stage that we're becoming professional it allows you to really put all the effort in that you want to put in to try to make yourself as good as you can be and then the standard of cricket is going to improve."
"It's definitely improved in the last couple of years and we have got that support, but there's always more that could happen and more people that could jump on board, so hopefully that happens pretty quickly."
Lanning, who has been able to put a lot of hours in at the cricket nets, said her personal goals for the future are simple - she just wants to keep improving.
"I think it's just about opportunities to allow yourself to become as good a player that you can, on and off the field."
Although who knows? Maybe a switch to acting could be on the cards.
Lanning recently cameoed in an episode of Neighbours alongside Shane Watson and Damien Fleming.
The guest spot is unlikely to tear the cricketer away from her chosen sport - we can't help but agree with cricket.com.au's assessment: as actors, they make pretty good cricketers.
And why would Lanning leave cricket? With so many successes achieved so early in her career, there's no telling where this athlete will end up.