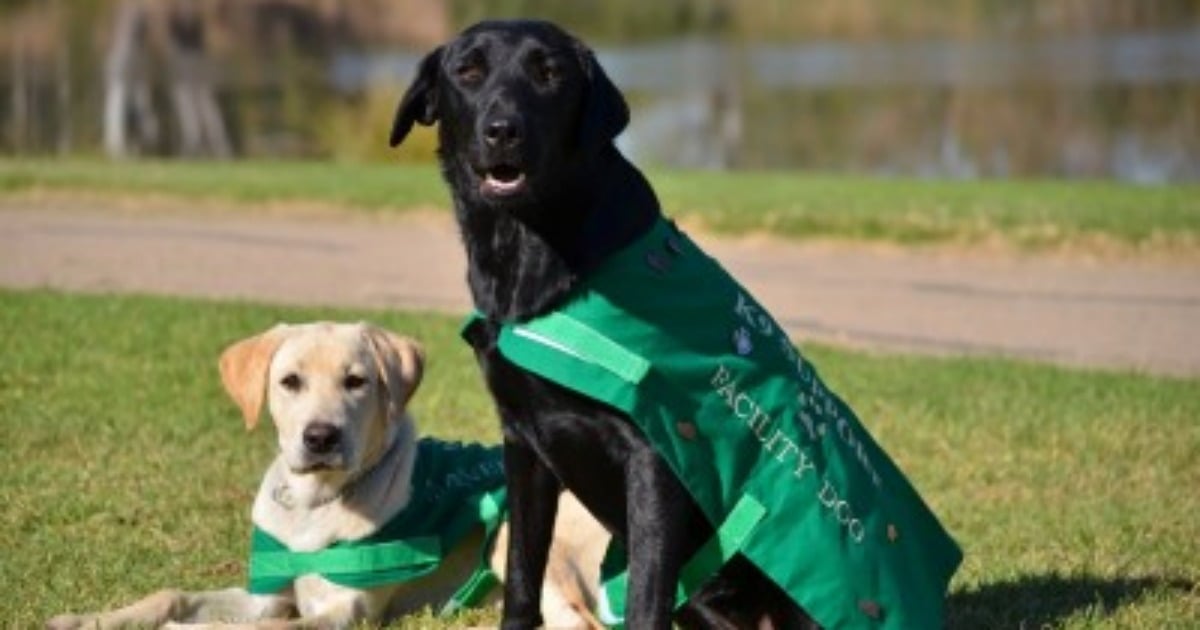 Meet Coop.
Australia's first ever dog trained especially to comfort victims of abuse as they give evidence in court.
Reporting for first duty this week, the Black Labrador will be stationed at the Centre Against Violence in the North East of Victoria, where she will work alongside counsellor advocates to soothe and support those who have experienced sexual assault or domestic violence.
And if the first stage of this pilot program goes well, it's then hoped that the Victorian Government will allow Coop and other court-support dogs to start working directly in courts.
There are already dogs like Coop helping out in courtrooms in the US and Canada. This is Caber, he supports victims of trauma in Canada. (Post continues after gallery.)
So what's the program all about and why does it need public support?
According to Kerry Burns, the CEO of the Centre Against Violence, "those who have experienced sexual assault or domestic violence, often find court excruciating and many find the process re-traumatising."
For children in particular, not being allowed to hold someone's hand as they give evidence can be especially distressing.
"Cross examination can also be an incredibly harrowing experience and many people break down [and find it difficult to give evidence]. To have the dog there to provide unconditional support and comfort is so powerful," Burns said.
"Currently defence teams can argue that support people might influence outcomes [if permitted to touch the victim while giving evidence], however a dog is seen as a neutral option because they cannot influence testimony."
Courthouse dogs are already working in 28 states in the USA, as well as Canada. They are professionally trained to remain completely calm no matter how chaotic or emotional a situation gets. This helps to 'anchor' the victim and reduce anxiety so they can give clear evidence.
The dogs also possess many of the same qualities needed in sexual assault counsellors: they are great listeners, they never blame the victim, and they have an unconditional regard for the victim.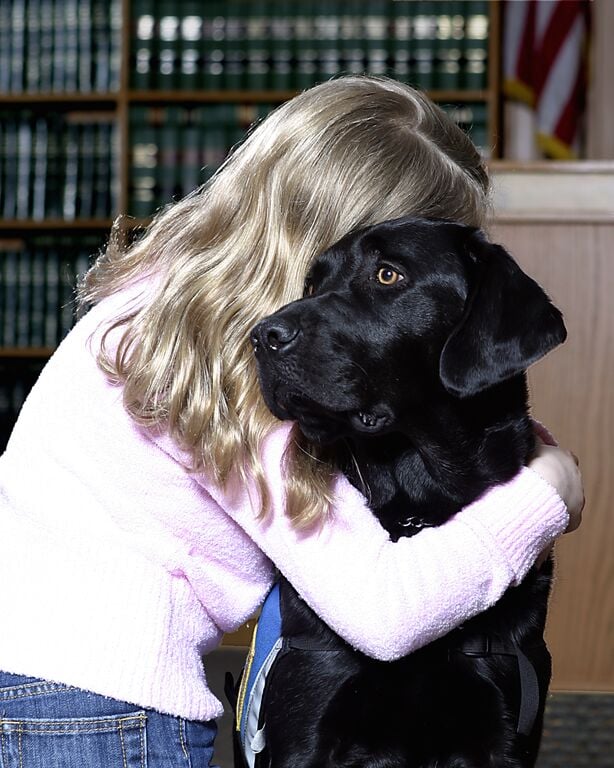 "Children will tell adults 'I can't tell you what happened to me because I'm embarrassed, but I can tell the dog'. They will then look into the dogs' non-judgemental eyes and begin disclosing. It's incredible to watch," said Tessa Stow, the founder of K-9 Support in Australia and Coop's trainer.
"The programs in America and Canada are getting outstanding results: the re-traumatisation rates are being lowered; more perpetrators are changing their plea to guilty because they had not anticipated how articulate a child could be, when supported by a facility dog," Stow said.
"Having these dogs in the workplace is also reducing the stress and vicarious trauma levels for police and other staff. And women who have experienced domestic violence are more likely to stay engaged with the court process, and see their case through to completion, if their children have developed a relationship with the dog. Suddenly going to the police station or court isn't all bad – it's also an opportunity to see Coop the dog."
Celeste Walsen, the Executive Director of the Courthouse Dogs Foundation in America, said that there was real science behind the programs over there.
"What we can do with a dog is change the neurophysiology of the situation. [The presence of the dog] increases oxytocin and drops the blood pressure; it lets us think more clearly so we are able to articulate what we need to say," Walsen said.
"For a child or victim who is feeling anxious, the dog lying there quietly sleeping or even snoring, gives them the message it is a safe place."
Meanwhile, back in Australia, Tessa Stow has been training Coop for the past 18 months. In May this year Coop passed her Public Access Test, meaning she can now go any place a Guide Dog can.
Ideally K-9 Support will receive sufficient funding to expand into other Australian states and territories.
Steph Ryan, the Member for Euroa, is championing the Victorian program and is eager to see it move beyond pilot phase. For that to happen though, the Government would need to commit to funding the program and it would need approval from the courts.
"The Royal Commission's report references a 2010 survey of 25 children and young people who attended the Children's Court. Every one of those children described it as a scary experience," Ryan said.
"Tessa Stow has been a passionate advocate for this wonderful program and I would like to see it supported as part of the government's response to family violence."
In the meantime, Coop will continue her important work at the Centre Against Violence, helping both children and adults to recover.
Nina Funnell is a K-9 Support advocate and mad dog lover.
A petition has been launched to get more comfort dogs in courts. To sign, click here.
If you would like to donate to a crowdfunding page for K9 Support you can do so here.