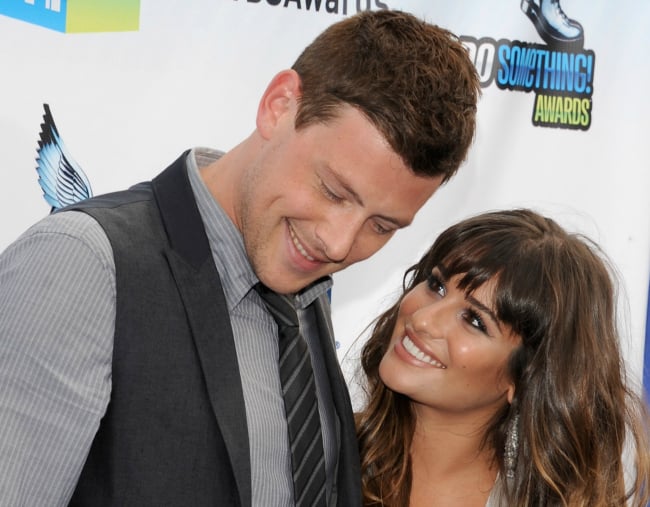 Five years on from Cory Monteith's death, the Glee star's mother has spoken about the moment her "world totally stopped".
Speaking to PEOPLE, Ann McGregor said it was her son's co-star girlfriend, Lea Michele, who first broke the news.
"I got a call from Lea and she was screaming on the phone," the 67-year-old said. "She was yelling, 'Is it true, is it true about Cory?' and I said, 'What about Cory?' I had heard nothing.
"And then police knocked on my front door."
Monteith's body was discovered in his room at the Fairmont Pacific Rim hotel in Vancouver on July 13, 2013. There were traces of morphine, codeine and heroin present in his system, and the coroner ultimately ruled that the 31-year-old's died from a "mixed drug toxicity, involving heroin and alcohol". It was deemed accidental.
McGregor said her son had been on pain meds for recent dental work prior to his death, and that his passing left her in a state of numbness, of denial.
"I knew it was real, but there were times when I could lie to myself and say, 'He's in L.A., he'll call me soon,'" she told the tabloid. "I'm still always hanging on edge. When you lose someone who is such a big part of you, you lose all purpose for living."
The Candadian had struggled with substance abuse since the age of 13 and completed three stints in rehab, two by the age of 20. His mother notes that his academic prowess (he skipped two grades at school), meant he was socialising with teenagers when he was still a boy.
In 2014, Lea Michele revealed that the title to her ballad, 'If You Say So,' represented the final words Cory Monteith ever spoke to her.
In the song, which Michele co-wrote with Sia, Michele sings, "It's been seven whole days without your embrace, I wanna see your face, I've got some things to say."
"It's just a week ago, you said I love you girl. I said I love you more. And a breath, a pause, you said, if you say so.'"
In a 2011 interview with Parade, Monteith recalled how the turning point in his addiction came when, in a desperate "cry for help", he stole "a significant amount" of money from a relative. An ultimatum followed: get clean and sober, or the relative will report you to police.
"I changed my whole life," he told the outlet. "I moved to another city to live with a friend of my mother's who was recovering from addictions, and I decided I was going to start trying to learn how to act."
After landing a number of bit roles on television, Monteith secured a starring role as high school quaterback Finn Hudson on Glee in 2009.
After his final period in rehab four months prior to his death, he leaned on girlfriend Lea Michele. The pair had been dating since 2012.
On the fifth anniversary of his death this week, the 31-year-old shared an image of a sunset to Instagram, with the caption: "There are some who bring a light so great to the world, that even after they are gone, the light remains."
Mcgregor, who said she is "still picking up the pieces", said she knew her son didn't want to die and had been making plans for the future just prior to his death.
"Cory wanted a wife and kids," she told PEOPLE. "He would have made a beautiful father. He had accomplished so much. He was ready to step out of Hollywood and really live.
"He had so much to look forward to."