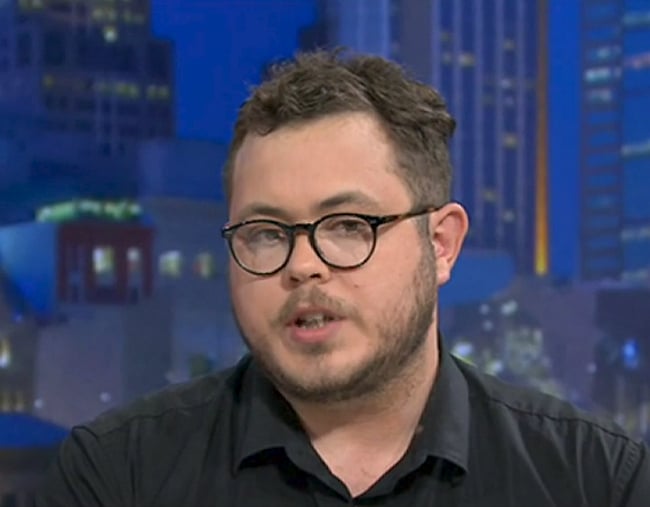 Warning: This article includes details of sexual assault and child abuse. 
Stand-up comedian and writer Corey White has made a living mining his childhood for laughs. But when the Melbourne man spoke about being raised in the foster system on Monday night's episode of Q&A, there was no punchline.
White, who grew up in Caboolture, Queensland, told the panel that he was in foster care until he was 10 years old and during that time he experienced "rape, physical abuse, sexual abuse, starvation".
"My mother died of a heroin overdose when I was 10 and I was in one particular foster home that was absolutely horrific," he said.
When pressed by stand-in host Hamish Macdonald about what happened there, White replied, "All of the bad things. Lots and lots of rapes. I've got a PhD in getting raped. The foster mother was absolutely awful."
Corey White speaks and you can hear a pin drop in the #qanda audience. Politicians should listen. And act.

— Glenn Gibson (@sszinglehead) July 2, 2018
#CoreyWhite, you should run for parliament, seriously. You are intelligent, you are articulate, you are across all the social issues and you have some really great solutions. We need people like you!!!#qanda#auspol

— Fierce Dinosaur (@FierceDinosaur) July 2, 2018
White's comments came on the back of an audience question related to his expressions of support for a scheme to pay drug addicted women to take long-term contraception in order to reduce the number of children ending up in the foster system.
White cited a US charity named Project Prevention that does just that via payments of up to $5000.
"The fact is that a lot of drug-addicted people do have children, and those children are condemned to lives of horror," White said. "So that's the context in which that solution is offered. Because all of these middle-class niceties aren't working."
When Macdonald noted such a scheme would mean White may never have been born, the comedian responded, "I think it's a cost I would be willing to pay. A child should not be born into hell, and if we can voluntarily, consensually arrange for people to delay child birth then we should."
White has previously detailed his tortured upbringing via ABC program Australian Story and documentary series Corey White's Roadmap To Paradise; from his criminal father's domestic violence, to his mother's addiction and his own struggles with crystal methamphetamine.
"My mother was a drug addict; I know that she loathed herself," White recently told The Sydney Morning Herald. "My father was mentally ill and … at what point does free will come into it? Can you really speak of free will when a man stabs his partner with scissors and says 'I'm god, you're the slave' – is that the product of a rational mind?"
Government data from June 2017 revealed that 47,915 children were in out-of-home care in Australia, 38 per cent of which were in foster care.
If you have experienced domestic violence or sexual assault, support is available via 1800 RESPECT. Please call 1800 737 732.