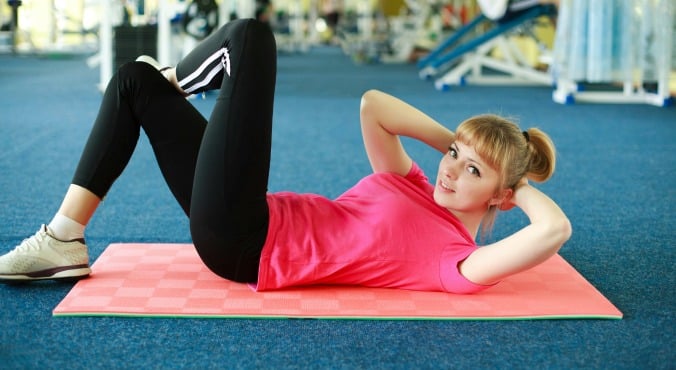 Image: if someone looks this happy at the gym, there could be a reason… (Thinkstock)
Exercise can be the worst. It's tiring, it's inconvenient, it's sweaty – and it's hard to do when you'd much rather prefer to be on the couch, re-watching Girls.
But here's one thing that could potentially make it better. Much, much better.
It's called a 'coregasm'.
RELATED: 5 sweat-free exercises to better abs
Scientists refer to them as exercise-induced-orgasms, and they're all to do with the type of workouts you're doing – anything that engages your core and your abs is likely to get you excited. While we don't advocate completely swapping sex for crunches (after all, sex is fun! More fun than the gym!), incorporating an orgasm or two into your day is never going to ruin it.
Take the woman in the below video, for example – she's definitely having a good time in her core class. (There are some debates over the validity of this video, but it's still a good one to illustrate how a coregasm might happen):
The coregasm is a concept that was originally introduced by a sexologist, Alfred Kinsey, in 1953. Post-1953, it largely fell off the radar – until July last year, when the University of Indiana published a study to determine just how many women have experienced one.
Of the 530 women that responded to the study, 40% had experienced a coregasm on more than ten occasions. 45% of these women had experienced the orgasm during abdominal exercises; 26.5% enjoyed them during weight-lifting; 20% put it down to yoga and 15.8% named bicycling as the culprit.
Some even experienced an orgasm while walking or running, which would make jogging around the park a different experience, huh?