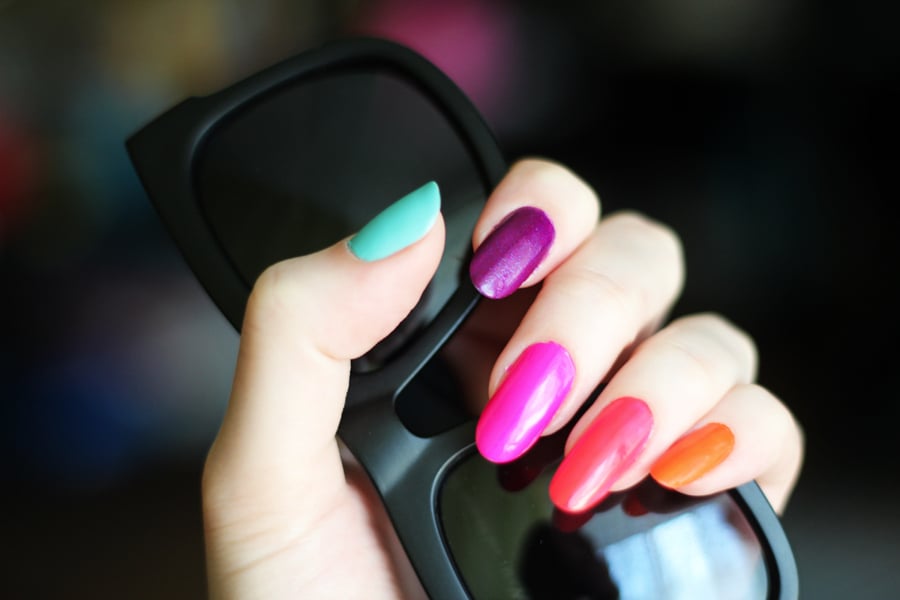 Image via Flickr
You've heard it before – it had its day in the sun and now it's on the way out. But we're holding strong. Nail art isn't dead yet. It's not even sleeping.
Sure the private school girls on the bus are all rocking statement decals on their pinky fingers now, but while teens are usually the harbingers of trend death, this time, we think they're just signalling an evolution. We can still have fun with our fingers, but now it's a different kind of fun. A more grown up kind.
So don't worry. We're not going to ask you to reach for the glitter (so hard to get off!), or to lovingly paint Chanel Cs on your index finger (only on Iggy Azealia). Instead, go back to the classics.
Metallics
Glitter? No. Sparkle: yes.  It's still fine to have fingers that shine like the rings you wear on them. Just go for something solid rather than packed full of plastic bits. Being a little flashy with your hands never hurt anyone – and you can colour-match to your precious metal of choice.
Buy them all: Hello Darling Set of 5 Metallics nail polish.
Dark reds
Dark red – the femme fatale's go to.  Usually, I can't be swayed from the classic and original dark red that is Chanel Rouge Noir, but this Butter polish in Rosie Lee has made a cheater out of me. Sure, we said 'No glitter' a minute ago, but if you just do a cheeky streak of La Moss across your tips, it'll look like your fingers have been dipped in sugar, rather than the blood of your enemies.
Buy them both : Butter London Duo Of Rosie Lee And La Moss.
Blues
Blue is one of those great shades that doesn't really go with anything, which means it actually goes with everything. A really bright blue is so ostentatious it eats its own tail and becomes a neutral. An eggshell blue that is pale to the point of almost being grey is fine for dipping a toe in the water; but cobalts that can't stop screaming, and royal blues that would turn Duchess Catherine (who FYI is a baby pink only kind of girl – yawn) green with envy are even better.
Shop the trend: OPI Can't find my Czechbook.
Two-tone tips
We know, we know, you're over nail foils. But they're just so quick. Don't do it because they're trendy. Do it because it takes three minutes to cover all ten nails and there's zero drying time.
Shop the trend: Metallic Moon Nail Wraps $16.
C'mon, spill (or at least don't make me feel alone in my nail polish hoarding): how many bottles of nail polish do you own?