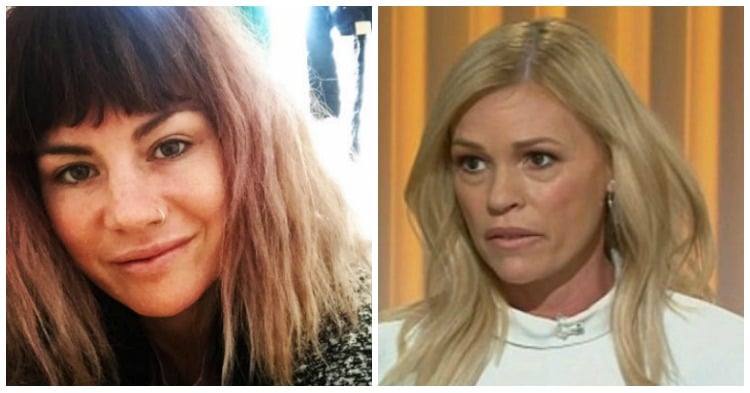 Plenty of people have weighed in on the scandal surrounding Sonia Kruger's stance on Muslim immigration. Silvia Jeffreys, Waleed Aly, Pauline Hanson, and now Constance Hall.
In a passionate Facebook post last night, the popular writer told her 800,000 followers that while she loves The Voice host, her call to ban Muslims from entering Australia "broke" her heart.
"It broke my heart for the Muslims that I know, for the refugees desperate to escape the same enemy that we are accusing them of being," she wrote.
As Hall, 32, explained, part of the reason she was so affected by Kruger's comments on Today Extra earlier this week was not just because she strongly disagreed with them, but because of a meaningful personal encounter she had with star while working at a Melbourne bar several years ago.
Hall was serving partygoes at a Dancing With The Stars event, when the Strictly Ballroom actress beckoned her over and asked her to join her at the table.
"So I sat with Sonia for about 10 minutes, I cant remember what exactly we spoke about but I do remember how she made me feel, special. Like we knew each other, like we were friends, on the same level," Hall wrote.
"That might not sound like a hell of a lot to you guys, but to a girl who served beer to drunk snobs for a living and lived permanently on a couch in the lounge room of a share flat. It meant a lot."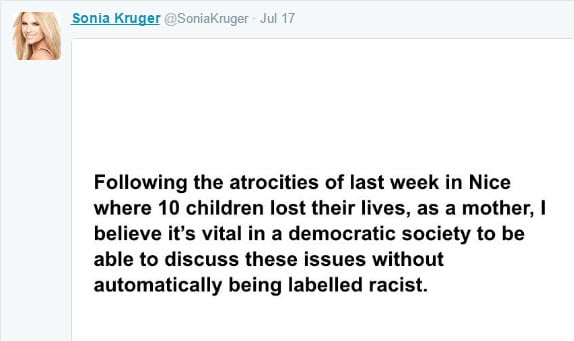 via Twitter/Sonia Kruger
The encounter left Hall with rose-coloured view of Kruger, making her "hurtful", divisive comments all the more shocking.
"I looked at her and for the first time instead of seeing a strong, beautiful, humble legend... I saw a scared women, a women responding to fear. A kind women saying dangerous and sad things."
Yet Hall found the ensuing "witch hunt" against Kruger to be equally sad, as rather than using her comments as an opportunity for education and debate, people met them with yet more hatred.
"In fact, I have seen more hate about her on my news feed in the last few days then I have seen directed to the Terrorist behind the Nice attack," she wrote. "I don't agree with a word that Sonia said, fear is dangerous, but hatred is no way to counteract fear."
For Kruger, she had one message:
"I just want to remind you that despite what social media and your colleagues or friends might be saying, to me you will always be the one person that saw me that night that I was covered in beer and ashtray juice. You saw me as a human and not a servant. I never forgot that," wrote Hall.
"But I see refugees as humans in need and not terrorists, I hope one day you will too."