Thousands of Constance Hall's loyal followers expressed their support for the popular blogger on Friday following a bizarre interview on Channel Seven.
Hall, who has earned a social media fan-base of over 1.1 million people, appeared on The Morning Show to discuss her popularity, her book and – as host Kylie Gillies described it – her "brutally candid and often controversial musings on everyday life".
But it was the interview itself that provided the controversy.
It began with host Kylie Gillies referring to the 32-year-old as 'Candice' and ended with her accusing Hall of hypocrisy.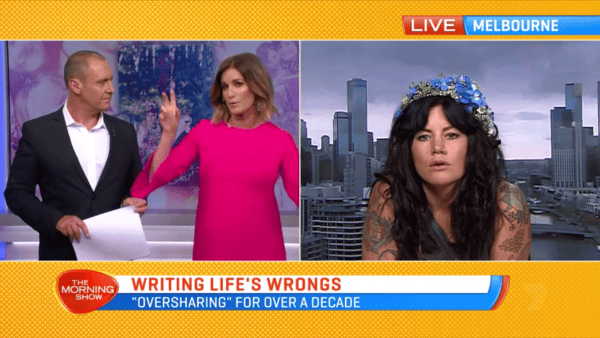 The exchange went as follows:
"For someone who says they don't like to judge, it sounds like you're pretty good at judging other people," the host said.
"What?" Hall responded. "Who?"
Gillies then alluded to Hall's earlier comments in which she said her frank posts about motherhood served as an antidote to to those by other women whose "house has a perfectly styled interior", "whose boobs are fine" and "who got their figure back" easily.
"But I'm not judging them," Hall said.
"Oh, you're not judging them?" Gillies responded holding up her hands. "Right. Okay."
Hall explained, "My sister, her life is beautiful and perfect and I love her to bits. But I don't want anyone else to be saying their lives should be like that and judging their own lives against that."