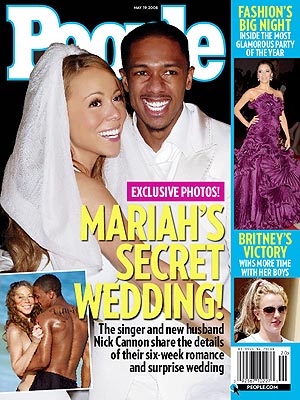 I tried so very hard to think of a different title for this post.
Because a few years back I made a new year's resolution not to be cynical about celebrity weddings. But it's hard, people, it's hard.
Especially when I saw that these Mariah Carey wedding photos had been released. Especially when the bride and groom have been dating for, like, a month and they got tattoos to celebrate their love after about 5 minutes.
He got MARIAH across his entire back and she got MRS CANNON on her neck (her neck?? MRS CANNON??? HER NECK?????).
Mariah: "One thing (few people) knew was we got tattoos a few weeks earlier. So anyone who saw my ("Mrs. Cannon") tattoo wasn't surprised."
According to People mag, who released these Mariah Carey wedding photos:"We really do feel we are soulmates," Carey tells PEOPLE, following their sunset ceremony at the pop star's Bahamian estate. "I never felt a love like this was in the cards for me." 
Cannon adds: "She is beautiful on the outside and 10 times as beautiful on the inside."
But no, really. I wish them well because the world needs more love. And soul mates. After 4 weeks.
What do you think about these Mariah Carey wedding photos (and matching couple tattoos)?  Is this the real deal?