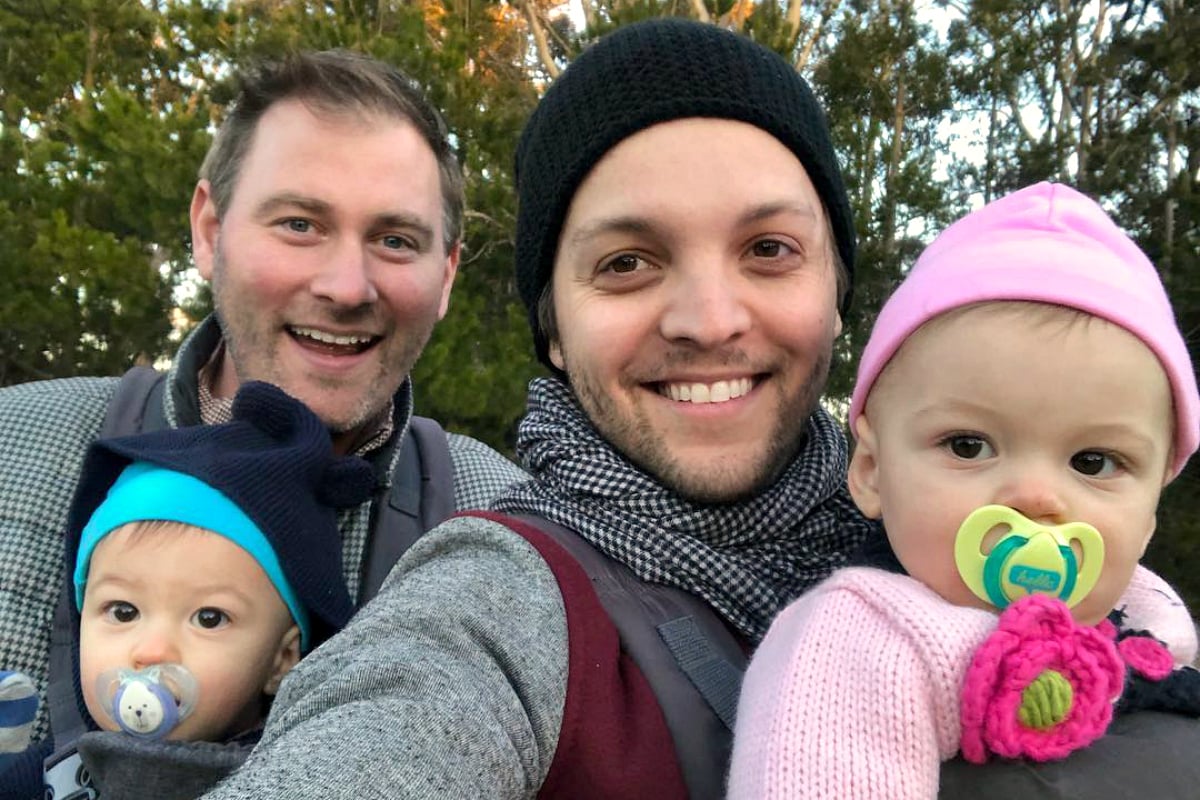 In September 2017, Sean and Josh Szeps walked out of a Minneapolis hospital with their beautiful newborn twins, Stella and Cooper, buckled into their car seats. With the help of two selfless women, the couple had created their perfect "instant" family. But in Josh's native Australia, the way these little babies were brought into the world is against the law.
Speaking to Mamamia's No Filter podcast, Josh, a host on ABC Radio National, explained that he and his American husband's children were born via a commercial surrogacy arrangement; in other words, the woman who carried their children was financially compensated. The couple, who were living in Los Angeles at the time, sought her services via a boutique surrogacy agency.
"Here in Australia surrogacy of the kind that we did is illegal," Josh told No Filter host Mia Freedman. "I mean, we could be jailed for doing what we did here."
Under Australian law, only 'altruistic surrogacy' is permitted, meaning the surrogate can't receive any financial gain from the arrangement.
"In certain states in the United States, that's not the case," Josh continued. "So it's a lot easier and more accessible, and it's better set up."
How Josh and Sean's surrogacy arrangement unfolded.
Though Josh was open about his desire to start a family, it wasn't always a consideration for Sean. But when they got married in 2014, something changed.
"We all grew up in a time where being gay meant you wouldn't have children. I didn't know a single person who did," Sean said. "But [after the wedding] the tables had turned because I realised that I had put limitations on myself because of what I thought was possible."
They began investigating adoption; they researched agencies, had meetings. But around that time, a college friend of Sean's reached out with an incredible offer: she would carry a child for them.
"She actually is one of those beautiful, selfless humans – there are a lot of them out there in the world – who love being pregnant and think it's such a gift," Sean said. "She's a stay-at-home mum full-time, she has a lot of kids of her own, and she just wanted to give back and help someone out."
The friend ended up carrying for another person, but the idea of surrogacy appealed to Josh and Sean. They took a year to do research, to mull over the options, the cost.
It was important to Sean that they both had a genetic link to their children, so he floated the idea of egg donation among his female relatives. Josh would provide the sperm.
"When you have right in front of you the possibility of both being connected to the children, to it being the same family tree, just something came over me, and I remember being really like, 'Josh, this is gonna cost us, no joke, a hundred thousand dollars more than adoption, but it has to be the path we take,'" he said.
 

View this post on Instagram