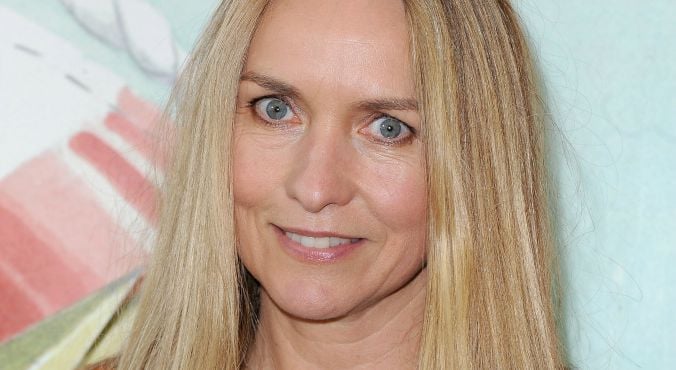 Image: Getty.
Collette Dinnigan has been an icon of the Australian fashion scene since the early '90s, so when she announced she was quitting it all two years ago her customers, admirers and even closest friends were completely stunned.
On last night's Australian Story, the popular designer reflected on her decision to close her Sydney, Melbourne and London stores to allow her to focus on her family. The turning point came while she was working on her first book, Obsessive Creative.
"When I was given the final copy of my book, it made me quite retrospective about my life and my business. And so seeing it made me quite emotional in thinking about what I had achieved and my family in particular, and all those moments that are very personal," the 49-year-old told the ABC programme.
"And I guess it kind of just turned something in me or clicked, something clicked and I felt like, for me, now I have to make a change. Another collection, another show, another this, another that, another store: it wasn't what was important to me and it wasn't what was motivating me any more."
Her husband Bradley Cocks said it became "really apparent" that something needed to happen when the pair found themselves working six days a week, often conducting meetings while Dinnigan breastfed their son Hunter.
"Collette put together a very personal book about her life and her career. And I think her seeing that in a physical form and very visually was absolutely a catalyst for her thinking about the next chapter of what she was going to do," he recalled.
Dinnigan has admitted the decision was a difficult one that couldn't be taken lightly, previously telling the Daily Mail: "[There is] a lot of weight on you when you have that many staff and, you know, their families have mortgages and children to support, it's very serious."
She has also spoken of how her mother's death more than 20 years ago made her realise how important it is to spend time with her family.
"I have two children of my own now, I don't want to miss any of those special moments with my children because my work got in the way. I haven't stopped for 24 years, but I do not believe that any moment spent with your children is not a wasted moment,'' she told Fairfax Media two years ago. (Post continues after gallery.)
Inspirational Female Celebrities.
''I am doing this with total honesty and with my integrity intact. People like to speculate that something must be wrong, or that we are in trouble, but it is not that at all. It is about me being able to make a decision about the brands which respects their value.''