1. Clue #5476 we already know exactly who wins The Bachelorette.
It's uncertain whether we've ever been so sure we know who's going to win a reality show.
Now, with one week to go, we're down to Jarrod (A.K.A 'who pissed in my pot plant?'), Apollo (beautiful, but probably too young), and Stu (overly-familiar millionaire who Sophie seems to love the most), and with every passing day, there seem to be more and more clues that 44-year-old publican Stu Laundy is the last man standing.
And behold, today is yet another one of those days.
Because #BREAKINGNEWS, Laundy was spotted in the Gold Coast earlier this month sitting and looking at photos of he and Sophie. He was chilling in the lobby of the Palazzo Versace (as you do), looking at his phone, when paparazzi zoomed in on what he was looking at.
WOULD YOU CASUALLY BE LOOKING AT PHOTOS OF YOUR EX IN PUBLIC? And if you were, wouldn't you be crying?
Of course, there are a number of factors that strengthen the case that Stu ultimately wins Sophie's heart. We broke down how much airtime each hometown date was given on Thursday (don't judge us), and Stu was given more time than each of the other men. Add to that the fact that when he entered the competition, he was given the winner's music the moment he met Sophie. It's a similar tune to the one that played when Sam Frost first met Sasha Mielczarek in 2015.
Currently, Sportsbet has Stu tipped to win (1.15), ahead of Jarrod (3.25) and Apollo (13).
Listen to the latest episode of Bach Chat, with Michelle Andrews and Zara McDonald. Post continues after audio. 

2. Sam Armytage shares a photo with five other Aussie celebrities – who all have one thing in common.

On Sunday afternoon, Sunrise host Sam Armytage shared a rather unassuming photo on Instagram at Channel Seven's telethon in Perth.
Posing next to the TV host was Sam Frost, Samantha Jade, Sam McClure, Sam Lane and Sam Mac.
OH. You finally got there didn't you?
Six Sams. One photo.
3. Why Kate Middleton never wears nail polish.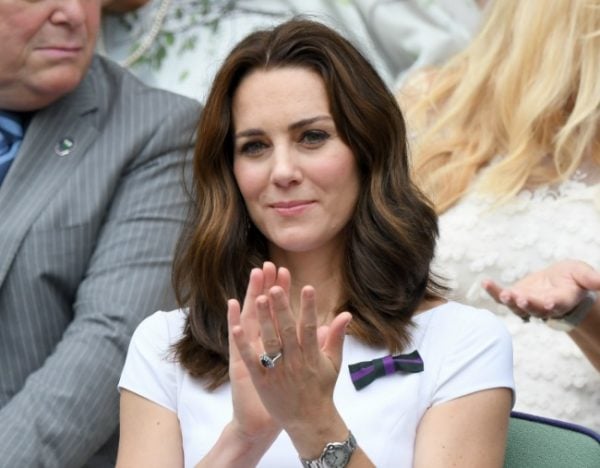 Have you ever looked at Kate Middleton's nails and thought, My Royal Goodness, why isn't the Duchess ever wearing nail polish?
Ha, us either. BUT, that fact aside, she really, truly doesn't. And now we know you want to know why.
Nail polish is one of the only things you'll see the Duchess of Cambridge without - a strangely particular beauty choice for someone lauded for her style.
So what's it all about? Well, like all bizarre royal things, it all comes down to protocol.
Apparently, royal sartorial rules declare that only natural-looking nails are allowed. It's perhaps the reason Queen Elizabeth has worn the same nail polish shade since 1989 - a sheer pink colour called Ballet Slippers by Essie.
And that's just about all the fluffy royal news we could muster for the day.
4. Whitney Port just got real about childbirth.
Whitney Port has spoken honestly about the impact her birth had on her body. Port welcomed her son Sonny in July, with her husband Tim Rosenman.
In the latest video in her series I Love My Baby But, The Hills star said delivering a baby vaginally changes things down there and it's a topic that's not discussed often enough.
"[H]aving a vaginal delivery changes everything down there and that's just something that's really not discussed. Like what it's actually going to do and that there's a really long recovery afterwards," Port said.
"It's painful and uncomfortable and along with having to take care of a newborn, you also have a whole other situation to take care of."
She also discussed the question of sex after childbirth.
"You're pushing, for me, an eight-pound baby out of a little teeny hole and I was obviously concerned about what that was going to do to our sex life," Port said.
"If it would feel the same, if [Tim] would feel the same way. I thought a lot about if [Tim was] attracted to me, and that was hard because I was never insecure about that before."
But her partner assured her that wasn't the case at all.