Renting a wardrobe is like Netflix for clothes. It's rent, return, and repeat.
You just go online, select the clothes you want to 'closet,' then get a notification of what items in your queue will be mailed out. You don't even have to wash your items once you are done. Just pop them in the pre-paid mail bag and put it in the post.
I was a plus size fashion blogger living in Los Angeles, running Big Curvy Love and needed to keep up with the demand for new outfit posts.
Renting clothes was an new option for me so I signed up to plus size clothing subscription company Gwynnie Bee to see what it was all about.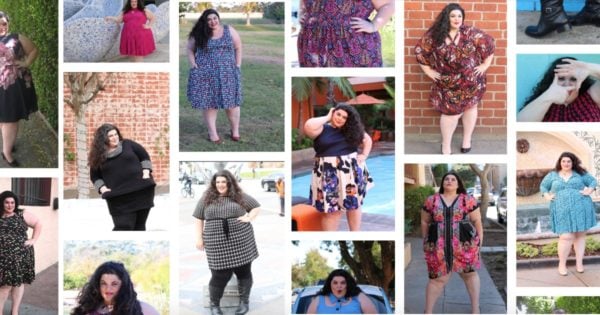 Having an unlimited wardrobe with a capped monthly budget (subscription price) meant my Instagram game was strong.
I had so many outfits to choose from and rarely if ever was photographed in the same thing twice. It's amazing how quickly I went from wearing the same thing day-in-day-out to being disappointed if I had to step out in a repeat outfit. I know, what a fashion snob!
Secretly I was loving it. I can absolutely see how people get addicted to fashion.
Since I'm such a budget shopper and was really surprised and how much this actually made sense financially. At first I thought it was so frivolous to rent and not buy but now I know renting clothes is the best fashion choice I've made and I have so many reasons why.
My Subscription Plan
I chose the three-item-out-at-a-time plan and in the first two months had borrowed 21 pieces of clothing. That's three to four outfits a week! Probably more new clothes than I'd had in a year.  There were options for five and seven but I was happy with three.
It was about $80 a month.
The deal with the subscription is that you can only have three items out at a time but return as often as you like which meant new items would be sent.
Here's the box I'd receive. It always came wrapped and was like opening a gift I knew I'd like every few days.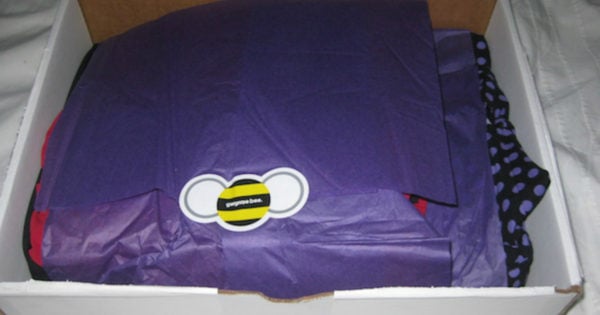 The Pros
Trying brands I couldn't afford to purchase. I'd never purchase a $250 dress but I could rent one.
Try styles I wouldn't normally wear. Those bandage dresses, body con, flowers and strips together.
Have less wardrobe clutter at home. I reckon 70 per cent of things in my wardrobe are never worn or don't fit. This way I just kept my staples and rented the seasonal items and flair pieces.
Saving money. If I added up the cost of each item I wore over the course of the year it would have been thousands and thousands of dollars. This was especially the case with trend items that are 'in' for a season and will never be worn again
Weddings and formal events. These are definitely expensive one offs so it's easy and much cheaper to rent, wear once and return.
New looks for the office. At the moment it's groundhog day at the Mamamia office for me. Same outfits on repeat. I wish this was around to rock out the new looks and walk down our indoor astroturf runway.
No shopping in stores, and no paying online. Just a monthly debit and choosing what to add to my list (which is fun). Such a time saver!
Less laundry. I just pretty much threw my underwear in the washing machine. The rented clothes were shoved in the postage satchel and mailed back to be dry cleaned.
Perfect if your size fluctuates. I had a friend who used this during her pregnancy. Another had major weight loss as used this as her size kept decreasing.
Smart for travel. I'd take a carry-on only and get my subscription sent to my destination. Then before flying home would pop the return satchel in the post. Boom! Less luggage and no fees for extra bags.
Dates. Every time I went on one of my 50 Fat Dates and wore a new outfit I felt good. It's the little things.
Option to buy. If I liked an item there was an option to keep and buy it and a new rental would be dispatched. I picked up a fun pink dress for $25.
The Cons
Preference. I didn't get to choose the order in which the items arrive. To offset this I'd bump items if they were out of season.
How to get the most out of it 
The trick to getting the most items was to return the items once I'd worn them. There as an option to click 'returned' online then a new item would be sent.
Where to from here?
Now I'm living back in Oz my Instagram game is back to normal (you'll see pics of me wearing the same thing ALL the time). But, the second Australia offers up a plus size clothing subscription I'll be the first in line to sign up.
There's a bunch of designer rentals for those weddings and special events but I'm hanging for the monthly day-to-day wear so I can go full fashion tilt.
Have you ever had a clothing subscription?