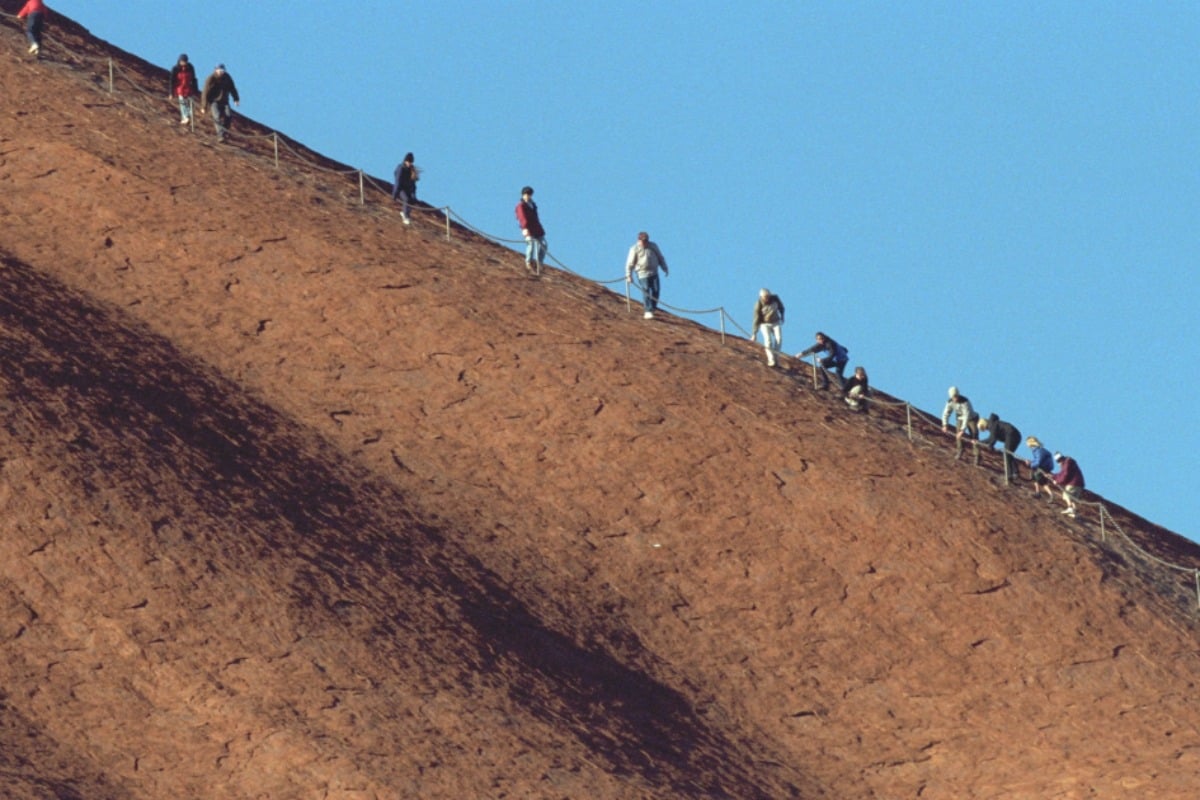 At the top of Uluru, a sacred site belonging to the Pitjantjatjara Anangu peoples, is the human excrement of those who were asked not to climb it.
Imagine.
You cannot wear shoes inside a mosque. You cannot bare your shoulders at St Peters Basilica. But you can, at least until October, defecate on a site of enormous spiritual significance, belonging to the world's oldest continuous culture on the planet.
Listen to Mamamia's brand new podcast, Tiddas 4 Tiddas, a podcast series where Kamilaroi and Dunghutti woman, Marlee Silva sits down with some of Australia's deadliest Indigenous sisters. Post continues after podcast. 
As if that is not bad enough, that excrement washes down Uluru when it rains. The surrounding waterholes, also sacred to the Anangu people, are polluted by the waste of visitors.
On Wednesday, a photograph was shared on Twitter of a thick line of tourists trudging up the sandstone rock as though they were on some sort of pilgrimage.
A friend of mine is down at Uluru at the moment & sent me this picture – saying it's the busiest they've seen it, & there's cars parked either side of the road for about 1km leading up to the car park at the base. pic.twitter.com/3cGQVUTYHd

— Katrina Beavan (@katrina_beavan) July 10, 2019
"There's cars parked either side of the road for about 1km leading up to the car park at the base," the tweet read.
On October 26, 2019, climbing Uluru will be permanently closed, marking 34 years since the park was handed back to its traditional owners.
The decision was made by the Uluru-Kata Tjuta National Park Board of Management, after it was found that less than 20 per cent of tourists were making the climb, a number that had declined significantly.
A sign has also sat at the base of Uluru for decades that reads, "We, the traditional Anangu owners have this to say.