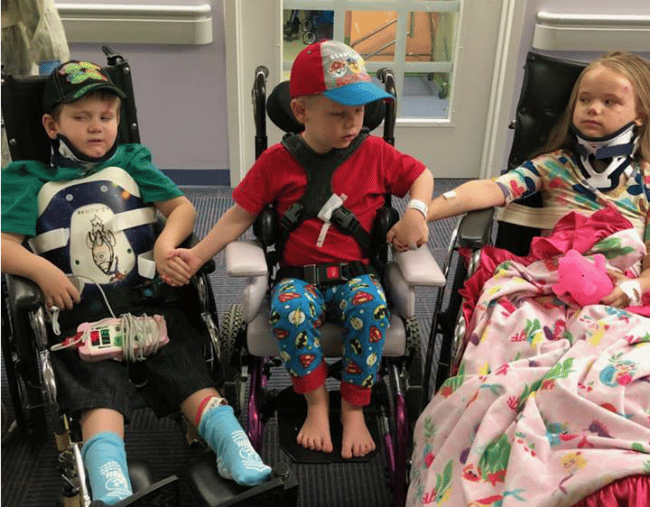 On April 7, parents of five Jim and Karisa Clemens and their two-month-old baby Juliana were tragically killed in a car crash on their way home from a family outing.
The San Angelo, Texas family were hit when the driver of another car lost control, crossed a median strip and landed on top of the family's vehicle.
The four other Clemens children were left with injuries, some of which were severe.
Angela, 8, Zachary, 5 and Wyatt, 4, are all recovering at Cook Children's Medical Centre in Texas.
Their younger sibling, 2-year-old Nicholas, who was also in the car accident, was released from the hospital just a few days after admission and is currently staying with an aunt.
On Tuesday last week, Angela and Zachary shared a special moment when they saw each other for the first time since surviving the car crash that killed their parents and their little sister.
Blowing kisses to each other and holding hands, the kids have been able to find strength in family through their recoveries.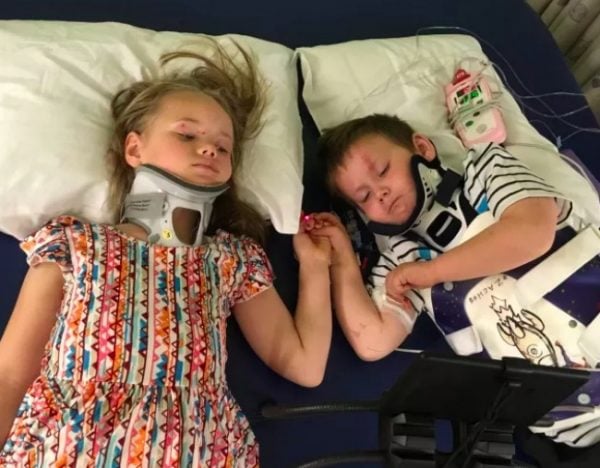 Last weekend, all three siblings finally saw each other for the first time since the accident.
In a touching moment, the three siblings are seen holding hands as they sit in wheelchairs.
"We are not going to limit the resiliency of these children, we are just going to accept every day as a gift," the children's great aunt, Teresa Burrell, told InsideEdition.com.
"A little while ago we had to tell them about their parents and there are different levels of accepting that and understanding that," Burrell said. "But they are all pulling together and that's the beauty of this story."
The kids were all air-lifted to the Texas hospital after the tragic accident.
Eight-year-old Angela sustained major head injuries and was unconscious for a long time. She has memory and brain function issues, broke both legs and has had to undergo several surgeries.
LISTEN: Kathy Kelly speaks to Mia Freedman about the loss of her sons, Stuart and Thomas, on No Filter.
Six-year-old Zachary suffered a broken back and a few internal injuries, including a ripped colon.
Wyatt, 4, had multiple strokes after the accident, suffered brain injuries and was paralysed on his left side. Miraculously, Wyatt is now starting to walk again.
Four-year-old Wyatt has been a particular comfort to his siblings, according to the children's great aunt Teresa Burrell.
Posting on their online fundraiser page, Teresa Burrell wrote: "He [Wyatt] rarely sits still. This morning he went to visit Angie in her room. After a few minutes of holding hands, Wyatt was ready to leave and he said: 'Angie I am going back to my room now'. She rolled over on her side and looking into Wyatt's face and said, 'Wyatt, I need you'. That active, sweet boy sat and held his sister's hand for another 25 minutes. Wyatt doesn't sit anywhere for 25 minutes. It was a sweet testament of the love these siblings have for one another."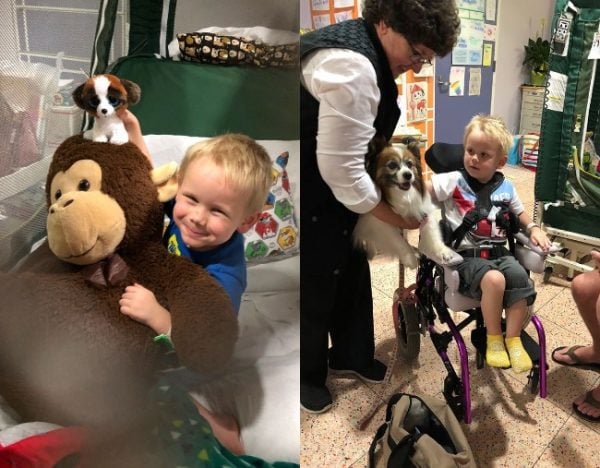 The children are expected to be in the hospital for months but they are astounding doctors with their recovery. Angela is talking and singing and Wyatt is starting to walk again.
"We didn't think any of them were going to be able to walk, and now we're thinking they all might hopefully walk again," said Burrell.
A YouCaring page and a Facebook fundraising page have raised more than $130,000 to go towards funeral costs and the children's recovery.
Once they leave the hospital, all three children and their two-year-old brother Nicholas will be raised together by their grandmother.