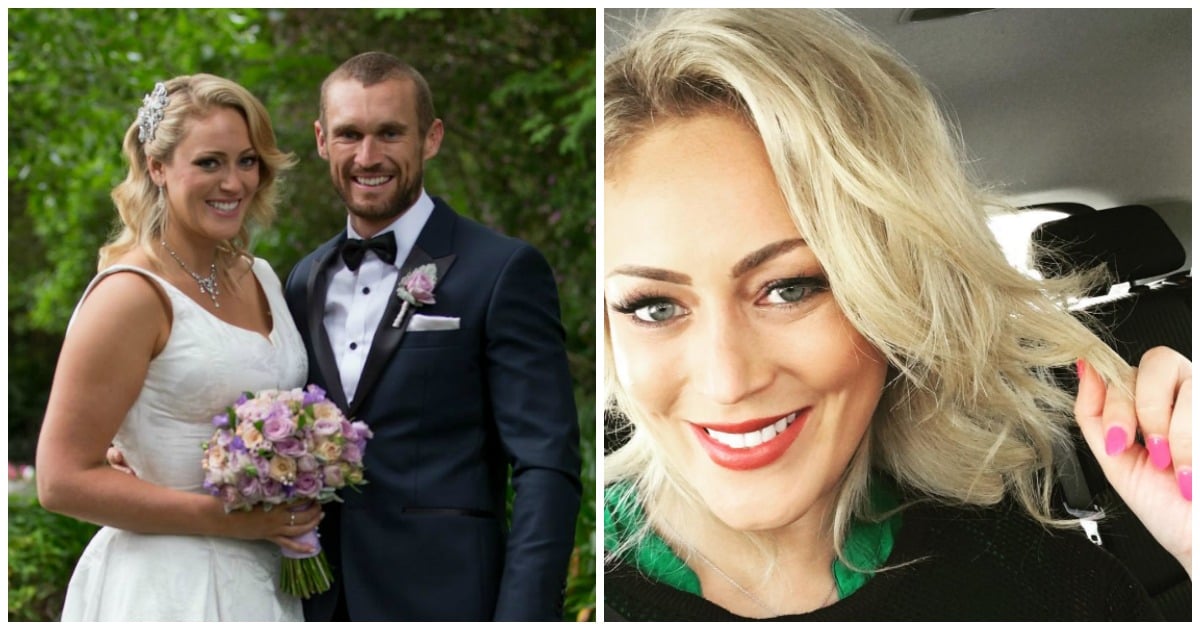 It's obvious when you talk to Clare Verrall that she is a very specific type of person. She doesn't suffer fools and she's surprisingly resilient for someone who has been taken through the wringer on national television. Subtlety and softly spoken ain't her thing while honest and bold candour is.
And now that the cameras are down and the embargo on honesty is stripped bare, (well, Channel 9 contracts not-withstanding), it would be easy to see a new kind of Clare, a more resentful one.
But for someone who has been in hospital all day dealing with pain maintenance, just one night after the finale of a show that arguably tried to suck every emotion out of her, she is surprisingly okay.
"I don't regret going on the show, no," she told Mamamia."You learn something from every thing you do".
Sure, there wasn't the kind of happy ending the white dress at the beginning hinted towards. In fact, it was quite an unhappy ending, if you consider the pairing of someone with existing PTSD with someone with notable anger issues.
But she doesn't dwell. Hey, she wished it worked out with her 'husband' Jono Pitman but there was more to learn.
"It made it clear that I would rather be single and happy than in a miserable relationship. I did absolutely have a fear of being single, but I've learnt being single is awesome," she said.
From my end of the conversation, things sound a little rosy. Granted, she put herself there. But to have every element of your life taken from you and broadcast to the country would no doubt mess with your head  a little.
"Look, it probably wasn't appropriate for me to be on the show at all. And to be matched with someone with anger issues is another thing," she admitted.
"I did more psych testing with my own psychologist after the show. And my score wasn't great," she furthered.
It's an interesting admission about a show that is supposedly built as a psychological experiment rather than car-crash television. But it doesn't exist in a vacuum, with Verrall hinting there could've been more done to prepare the contestants for what the show was going to bring.
Papparazzi, for one.
"They knew it happened last season. I don't understand why they couldn't have warned us this time," she lamented.
So should she have actually been there in the first place? You get a firm sense from Verrall that perhaps she wasn't the kind of person who should've been thrown in that kind of vortex. A vortex of messy relationships, emotional strain and public shaming.
"I only had 24 hours to decide. I guess they wanted the entertainment of me being an idiot on TV."
But this 'idiot' knew straight away it wasn't to work with her 'match'. And she's confident today that it "absolutely" wasn't a legitimate match. After all, she says, his favourite movie is Happy Feet. His second favourite movie is Happy Feet 2. Her favourite is Shawshank Redemption.
Although admitting she doesn't believe her experimental husband is a "bad person", Verrall does admit they weren't on the same page. Hell, they may not have even been reading the same book.
Watch the moment Clare and Jono called it quits. Post continues after video…
"I knew in a week that it wasn't going to work. We have extremely different views on everything. He lives in quite a bubble. He doesn't travel, or read.
"Jono is a good person. He is just ignorant. And when you live in that kind of bubble, you're going to be ignorant."
There's obviously a reason Verrall isn't looking to throw dark, murky and deep-seated shade at the show that has given her greater exposure than perhaps she ever considered. And it seems that reason is her incredible friendship with the other brides.
"We were meant to be kept apart, but that didn't work. We speak every day. We have a group chat. I knew everything that was going on every day, and I was especially proud of Simone."
Was she surprised by the hate that Simone had to fend off the moment her break-up went to air?
"We were all bracing for the backlash for her. It was going to come. Xavier was portrayed very positively, but it's not all the truth. But there was stuff going on there…" And she trailed off.
I probe, but don't get much, except for a steadfast defence for her friend.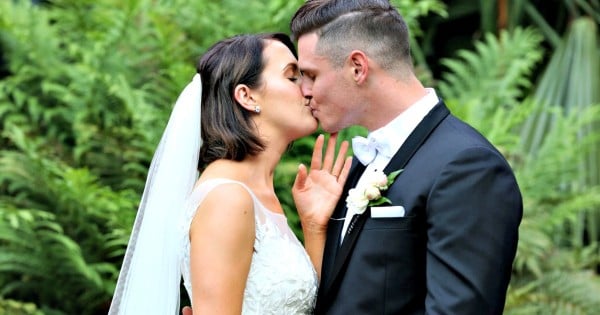 "Why the eff should you should stay in a relationship where you're not happy just because the boy can cook and has good hair?
"Good on her for being so gusty. She knew she was going to get backlash. She owned it and a grew a pair."
Hearing that sentence allowed, and it's obvious Verrall could've been talking about herself. Backlash and guts were intrinsic to her experience on the show.
So would she encourage others to go on the show, too?
"That's a tough one. They want their good stories and they want their bad stories. I don't want to say don't do it, but just know what you're in for.
What about herself? How's she doing? Where's she at?
"I've survived 100% of things that have happened to me. Sure, I've had a bit of a bad run, but that's ok. Life goes on. Things can only get better, until you break your arm."
Sarcastic, I like it.