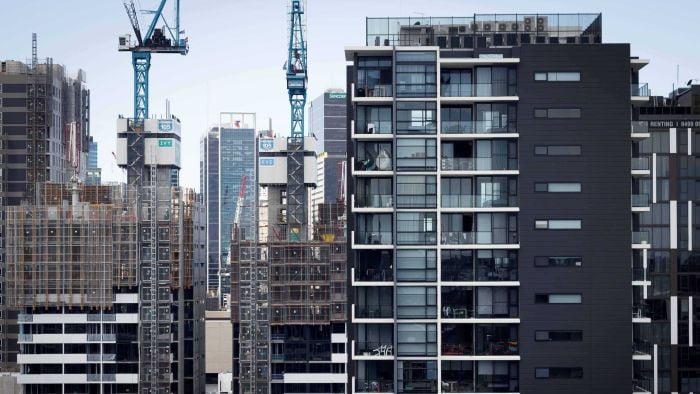 An explosion in the number of high-rise apartments across our capital cities is dramatically driving up student enrolments, resulting in "jam-packed" public schools.
The overcrowding is due to the growing number of families with school-aged children choosing to live in smaller dwellings close to the CBD, rather than houses in the suburbs.
State governments did not anticipate the trend and are now playing catch-up by installing demountable classrooms on school ovals and quadrangles to accommodate the extra students until new permanent facilities are built.
Brisbane State High School — already the largest public high school in the country — is under enormous pressure, as thousands of apartments spring up in suburbs within its inner city catchment.
In just four years, the number of students there has jumped from 2,269 to 3,145, meaning the school is now well over capacity, despite the recent addition of 40 extra classrooms.
A draft report on enrolment pressures at the school shows the problem is only going to get worse.
The report, which was produced by the consultancy firm KPMG and has not been made public, said the school will have to accommodate another 1,000 students in the next decade.
Students who spoke to ABC RN's Background Briefing program did not believe the school could cope with such an increase, arguing the environment there already resembles morning peak hour.
"I thought traffic was only for cars until I came to this school," one student said.
"It's sort of like rush-hour time. It's really jam-packed, people shoving and pushing," said another.
Families trading space for convenience
The rapid growth in enrolments at the school is also driven by its strong academic record, which attracts more families into the suburbs of South Brisbane and West End, increasing demand for apartments and exacerbating the overcrowding.
So far the trend is most obvious in the junior years, with KPMG's draft report stating that 40 per cent of classrooms through grades 7 to 10 exceed size targets.
"My Year 8 class for humanities was 35 people," another student told Background Briefing.
"I guess a class of 35 would be really difficult on the teacher, not just the students."
Since the 2011 census, the number of children aged 15 and under living in Brisbane's inner city has risen by 40 per cent, suggesting a growing number of families are trading space for convenience.
This shift is even more pronounced at the local primary school in West End, where a staggering 70 per cent of students live in apartments.
Sara Vogelsberger and her husband, Zac, have been raising their family in a small flat a short walk up the road from the school.
Although they can afford to buy a house in a more spacious suburb further south, they instead decided to convert a laundry into a third bedroom so they could remain closer to the action.