I've always thought of the laundry as that 'chuck everything in and lock the door' room that under absolutely no circumstances you need to keep orderly.
Well, The Real Housewives of Melbourne's Chyka Keebaugh would laugh in my goddamn face.
Because as the events entrepreneur recently blogged, her laundry isn't just neat and tidy, it's laundry PORN. It's an embodiment of what every single laundry aspires to be. 
Basically, it's colour coordinated and an organisational dream.
Explaining on her blog Chyka.com, the mum-of-two's pristine laundry "started as a junk space!".
"It's in a tiny nook that used to be a storage cupboard that we converted into one of the cutest little rooms in the house," Chyka writes.
"I'm a big fan of the European closet – they make so much sense to me! The smaller the space, the easier it is to keep tidy and clean."
Now is probably a good time to clarify that Chyka's "tiny laundry" looks about four times the size of my laundry at home. To me (the laundry novice) her's looks to be spacious and like it smells of nothing but sea salt and vanilla.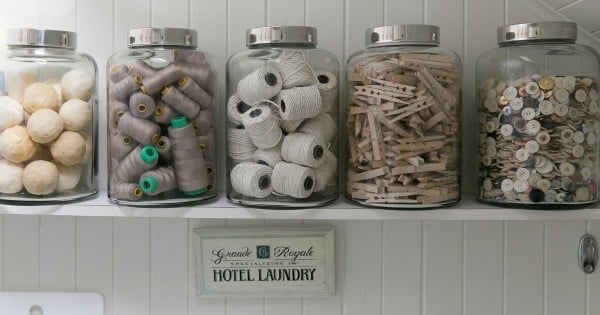 I mean, Chyka has bloody colour coordinated yarns of thread and wooden pegs. How can anybody possibly compete with that?
But according to the home décor aficionado, getting your laundry space spick 'n' span isn't all that difficult.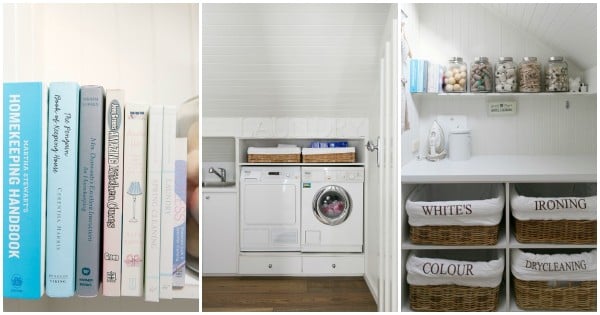 "Have all cleaning items needed should always be kept in easy reach like Fabulon/Napisan/washing powder etc," Chyka advises, as well as keeping all "warranties for washing machine, clothes dryer and iron" in a drawer in case anything unexpectedly breaks.