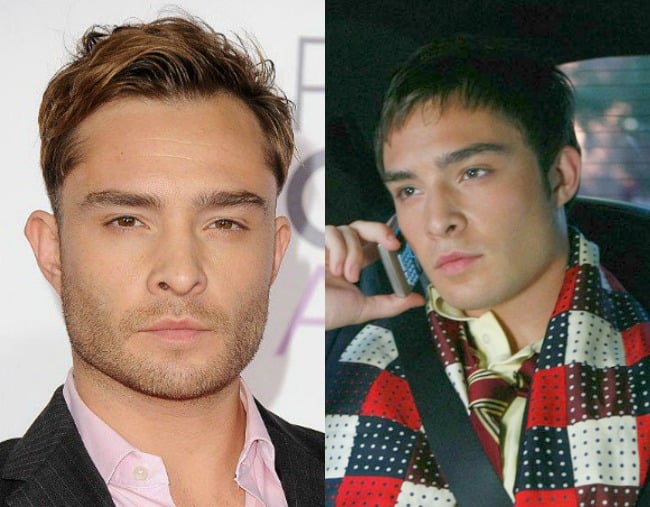 When Chuck Bass swaggers his way across our screens in the very first episode of Gossip Girl, the picture of his character is clear, the scene is set.
He approaches his friend Serena, who is drunk and sad and teary. They are in his father's hotel. He convinces her to go into the kitchen of the hotel for a sandwich. "If you're looking for a way to thank me, I've got a couple ideas," he says. His body aggressively presses against her, his intentions transparent. Her face frowns, she says no, she shakes her head, she shouts for him to stop. He takes both hands and kisses her. She pushes him away.
Ten minutes later, in the same episode, he targets 14-year-old Jenny Humphrey at a party. He takes her up to an empty rooftop. It's dark and dingy and abandoned. Gossip Girl narrates the scene. She wants to know whether "[Chuck will] end up with a new victim?" He tries to kiss Jenny, she pulls away. She wants to go downstairs. He denies her that right, instead pouring her a glass of champagne. She texts her brother who is downstairs. He finds her pinned beneath the force that is Chuck Bass, unable – but desperate – to break free.
Thirty minutes of footage. Two attempted rapes. Six seasons of Gossip Girl.
Zero repercussions.
If Gossip Girl mirrored real life, and Chuck Bass' actions were recorded in reality, then his character, you could argue, could be played by Ed Westwick. Westwick who, in real life, is accused of assaulting three women with no consequence until all allegations were made public.
It begs the question: In a period where his real-life character is shrouded in a heap of ugly allegations, how much is the character of Chuck Bass like the man that is Ed Westwick?
The similarities, if the allegations against Westwick are true, are eerie. If they are fact, reality and fiction are seeming to blur in the most uncomfortable way.
Chuck Bass was the ultimate teen bad boy. He was the character who tried to rape not one, but two, different women. He was the one who pimped out his girlfriend Blair to his uncle, selling her on to secure a hotel. He was the one who engaged in what was an arguably abusive relationship, where both parties would physically hurt each other throughout the series. He was a serial cheater. A commitment-phobe. A partier. One who didn't have the empathy to tell his long-term girlfriend he loved her. One propelled by self-interest. A master manipulator.
Ed Westwick is the man of accused of sexual assault three times.