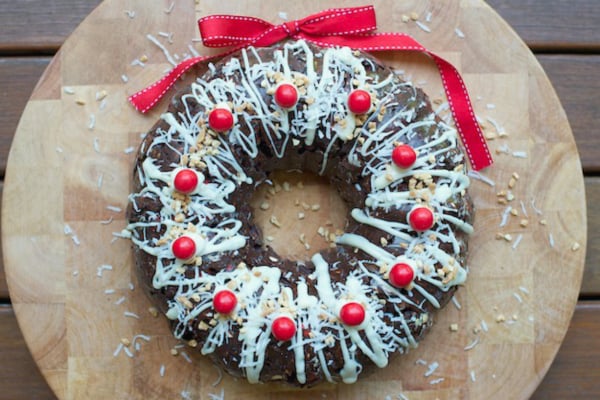 I love a bit of Christmas tack.
Sparkles. Glitter. Tinsel.
Rocky road in the shape of a Christmas wreath? Why the hell not?
This is a TRUE Phoodie recipe. Fun. Simple. Impressive. Delicious.
If you're celebrating Christmas with a special lunch or dinner, this NEEDS to feature on your table of deliciousness.
GIVE IT A GO!
Annnnnnnnd if you do PLEASE send me a pic. You can do this on Facebook, Twitter or Instagram or you can email it through.
MERRY CHRISTMAS!
If you like rocky road you may also like this Mint Chunk Rocky Road recipe and this white chocolate cookies and cream rock road recipe.
Speaking of the festive season, the internet has blessed us with Christmas eyebrows, and we can see ourselves getting into it.
INGREDIENTS
180g mini marshmallows
1 cup crushed peanuts (reserve a tablespoon for decorating)
1 cup coconut (reserve a tablespoon for decorating)
1/2 cup Jaffas (and 11 additional to decorate)
1/2 cup chocolate coated peanuts
750g dark chocolate melts
100g white chocolate melts
Butter – to grease the bundt tin
METHOD
Butter up your bundt tin in preparation for step number 3 – be generous with the butter. The last thing you want is for the wreath to get stuck.
1) In a large bowl, place the marshmallows, peanuts, coconut, Jaffas and chocolate coated peanuts. Mix with a wooden spoon.