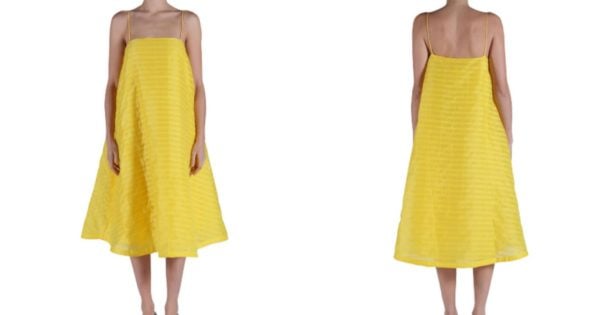 Oh good God.
Christmas Day is FOUR DAYS AWAY, and I've been too busy buying bloody KK presents to get my hands on a decent outfit.
I passed the 'totally freaking out' stage a long time ago, you guys, and feel sheer numbness as I type this.
We need to get dress shopping, reader friends. And we need to do it now.
Here are 10 dresses that are Perfect-with-a-capital-P to wear to Chrissy lunch (which, by the by, is expected to be a total scorcher). (Post continues after video.)
Let's do this.
Price range $50-100
Hey, budget gang! It turns out you can get your mitts on a gorgeous frock without breaking the bank or selling your kidney on the black market.
Here are some freakin' fabulous finds.
The Summer Wrap Dress – Sportsgirl $79.95
Size range: 6-16
Not only is this colour beautiful, but the wrap style is very on-trend this summer. This style will suit women who have a smaller bust, and look wonderful with some tan, strappy shoes.
The best part? It's short, without being too short. Win.
Belle Curve Printed Off Shoulder Dress - Target $49
Size range: 16-26+
If a dress was designed for Christmas Day, it's gotta be this one. The stunning print design screams summer, and the cold-shoulder straps will be a god send in the sweltering heat.
Pair with some chunky wedges and viola!
Karlie Off Shoulder Dress - Forever New $89.99
Size range: 4-16
I have always been one to adore wearing white on Christmas. Provided you can keep the marinated turkey and red wine far, far away, this white dress will look stunning with some metallic accessories and sandals.
Spring Floral Dress - 17 Sundays $89.95
Size range: 14-24
If your shoulders are broad, this dress will flatter your shape beautifully. The elasticated waist will also mean you don't feel squirmy after eating turkey and the stuffing, which is THE ABSOLUTE LAST thing anyone wants to feel on Christmas Day.
Pair with some strappy nude heels for a summery, effortless look.
Price range $100-200
Pom Pom Cold Shoulder Dress - Seed Heritage $129.95
Red! Wide sleeves! Pom pom thingy majigs! This dress has summer written all over it.