Craig McLachlan's former co-star, Christie Whelan Browne, knows what most people think of the long-time stage and television actor: "Very generous, warm, funny. That's how people would describe him," she told ABC's 7.30.
But while working alongside McLachlan on the 2014 tour of Rocky Horror Show, Whelan Browne said she saw another side to the father-of-one. One that left her utterly terrified.
The 35-year-old musical theatre actress is one of three cast members from the production to have come forward with allegations of indecent assault, harassment and bullying against McLachlan, which were published this week via a joint ABC/Fairfax investigation into sexual harassment in the Australian entertainment industry.
McLachlan firmly dismissed the allegations against him as "baseless" and "made up".
In an interview aired on Monday night's 7.30 program, Whelan Browne alleged that in 2014 McLachlan had assaulted her on stage during a love scene performed in a vertical bed. The script reportedly required him to kiss her neck and arm before disappearing beneath the sheets. However, Whelan Browne alleges that once out of view of the audience, McLachlan continued to kiss her breasts and stomach, and on one occasion pulled aside her underwear and kissed her buttocks.
"As the tour went on he would always tell me he could see my vagina through my white underpants that were my costume. And he said that he could see the slit of my vagina and that he could smell it and that it smelled sweet. And he would talk about this a lot and then one night, when he was down in the bed, he traced the outline of my vagina with his finger and I slapped his hand away," she said, tearfully.
"I didn't know that it was sexual harassment. I didn't know how inappropriate it was because it was always a joke. But, that's not a joke."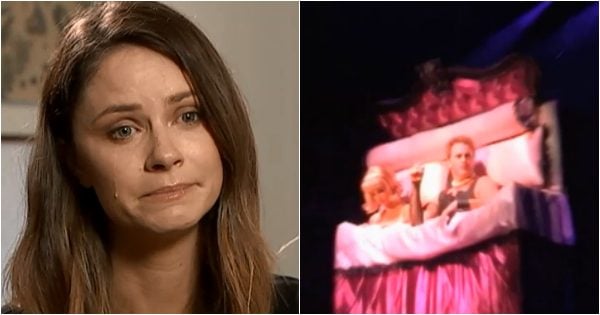 According to Fairfax journalist Kate McClymont's report, McLachlan is also alleged to have exposed himself and made unwanted sexual advances toward female colleagues in the 2014 show.
Two of those women - Erika Heynatz and Angela Scundi - filed complaints with Victoria Police, who on Monday confirmed they are investigating the 52-year-old for sexual offences. However, after the ABC/Fairfax allegations were published, two more women reportedly contacted police in relation to McLachlan's behaviour.
Heynatz, Whelan Browne and Scundi told the ABC that they decided to go public with their claims in an effort to change the culture of silence that exists within the industry, and to ensure the safety of other performers.
"I hope that in coming forward, which is something that is very difficult and something I tried to avoid, I hope that it makes a change," Whelan Browne told 7.30.
McLachlan has withdrawn from the Adelaide production of Rocky Horror in the wake of the allegations.