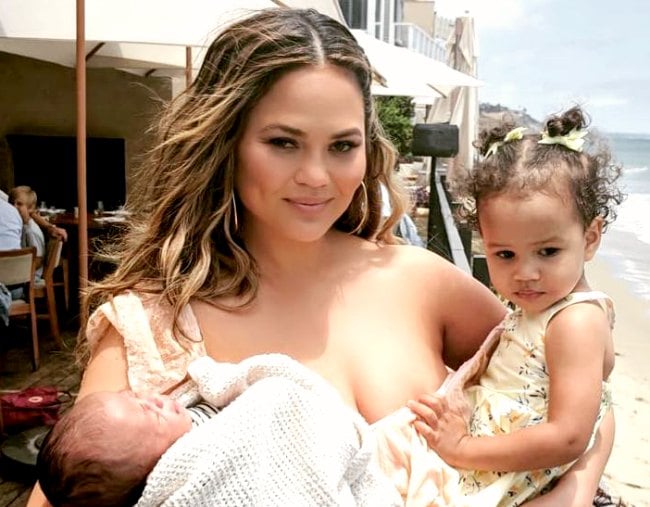 A child's first day at school is a tough day for any parent, and it seems Chrissy Teigen had a particularly challenging time at Luna's primary school orientation.
The mother-of-two posted on Twitter about her experience.
"Hello everyone from Luna's school orientation today. I'm sorry I projectile puked caffeine upon arrival, couldn't open my eyes and had the noisiest newborn in the room. (not a joke, very sorry, see you tomorrow)," she shared on Twitter.
And what caused the mishap?
"Oh no it was not first day of school jitters. It was last night's wine and Korean bbq and jet lag combo," Chrissy later clarified.
Replying to her tweet, some fans even wondered if the origin of her vomit was possibly 'child number three,' however Chrissy very swiftly put an end to that rumour.
please lord no not right now lol

— christine teigen (@chrissyteigen) August 20, 2018
Although the 32-year-old might not have made the best first impression, it encouraged other parents to share their "first day at school" fails.
My daughter heckled the Principal at her orientation.

— Heather (@Heatherslosinit) August 20, 2018
Every year since my kids started school. You're doing it right, mama ♥️

— ashley ???? (@ashtotheru) August 20, 2018
When my son was 2, I ignored feeling sick bc errands & appointments.
By 9 am, when I had climbed into the back of my 2 door Saab to buckle him in, the hunching over caused me to vomit oatmeal onto my child.

He barely reacted. Thank freaking god it mostly got on the car seat ????

— AmberR????se Griffis???? (@WensdaiAddamns) August 20, 2018
See, I think this is very strategic move. Now you don't have to worry about those overly excited volunteer parents who plan every single thing under the sun on the first week of school asking you for help. Now they just think you have "enough on your plate". Well played

— StephMcb1025 (@Sammeemcb) August 20, 2018
I threw up in my coffee cup at my sons first Little League practice. I was hungover like never before or since. But I was never asked to do consessions stand duty.

— Susan Arrigo (@sjarrigo) August 20, 2018
As they say: tomorrow is a new day. Just maybe nix the Korean BBQ and wine for dinner tonight, Chrissy.
Do you have any similar 'first day' horror stories to share? Group therapy in the comments please.
Watch Chrissy Teigen and John Legend sing L.O.V.E. It'll melt your heart.