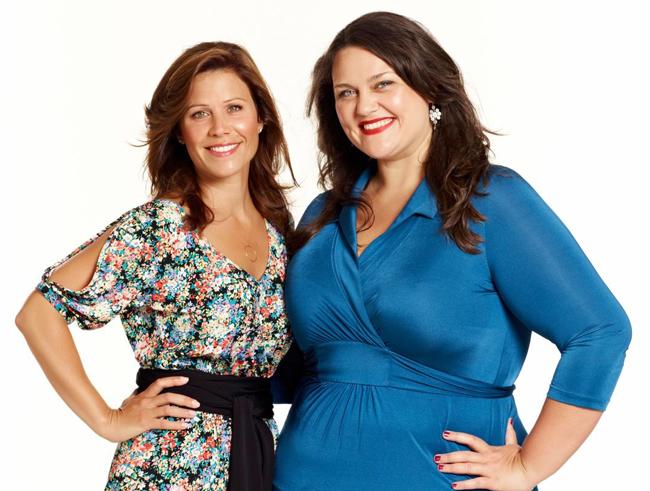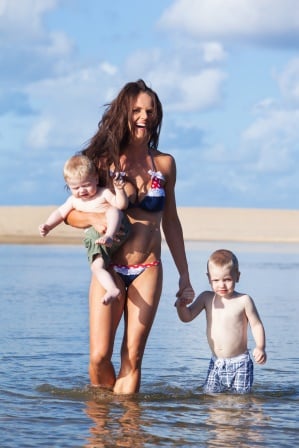 'Fitmum' Sharny Kieser is a Queensland-based personal trainer and "renegade fitness expert" (her website's words, not ours). Together with her husband Julius, she has written various diet and fitness books, including an eBook, FAT kids: help your child to escape the obesity epidemic.
She's also been doing the daytime TV/radio circuit over the past couple of weeks, after she wrote an article for News.com.au about staying fit during her fifth pregnancy.
But it wasn't until she appeared on Chrissie Swan and Jane Hall's radio show that things started getting interesting.
Chrissie Swan took Kieser to task on comments that Kieser made last year, saying that overweight people were "fat and lazy".
Boy, did she take her to task.
Here's the full interview.
[soundcloud url="https://api.soundcloud.com/tracks/133641025″ params="color=0076ed" width="100%" height="166″ iframe="true" /]
If you can't listen to the audio, here's how it went down:
Chrissie Swan: I am fat and you definitely hit a nerve with me because … You know me, would you say that I am lazy?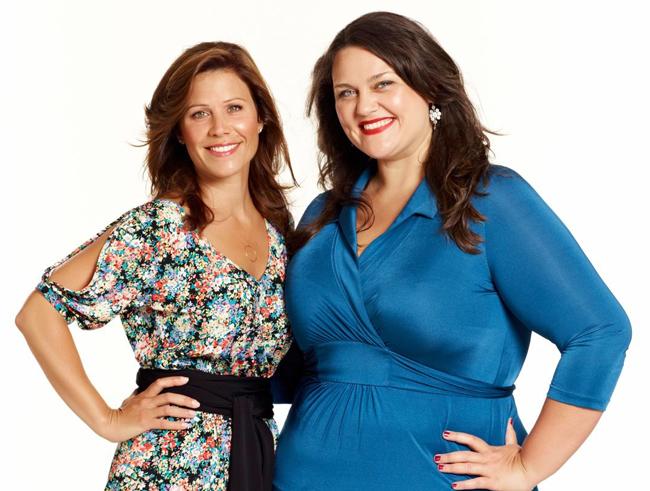 Sharny Kieser: Um … Well yeah you have been, but I have seen you change from being lazy to getting into exercise as well, so I've seen you change that mindset.
CS: So you think raising three children and working sometimes 14 hours a day is lazy?
SK: I think that not fitting in exercise and not being active with your kids and trying to teach them a healthy lifestyle is definitely not the right way to go, yeah.
CS: What if I were to say to you that that is completely unrealistic and offensive and untrue?
SK: Why is it unrealistic to teach your kids to be healthy?
CS: I'm not talking about that, I'm talking about how possible it is. It's very easy for you Sharny, whose entire life and career is in runners and running around working. So when your children are involved in your work and your job everyday is to be down at the park and running then it's all very well to say that's possible. When you say that fat people are lazy, you are perpetuating a myth, and you are contributing to a stigma that is untrue.
SK: Well I completely disagree with that because firstly, Julius was in finance and I was in radio and we had kids and we were still active because we chose to be active. We talk to people every day that are in different jobs that are running massive corporations and are still active with their kids every day. It's either do you sit on the couch and eat with them for entertainment, or do you get outside and run around and play with them and not make it about food.
CS: [interrupts] What's to say that someone like me and millions of other people that look like me are not running around the park with their kids?
SK: That's great then — they're not lazy, they don't have that mindset. It's the mindset that we're talking about.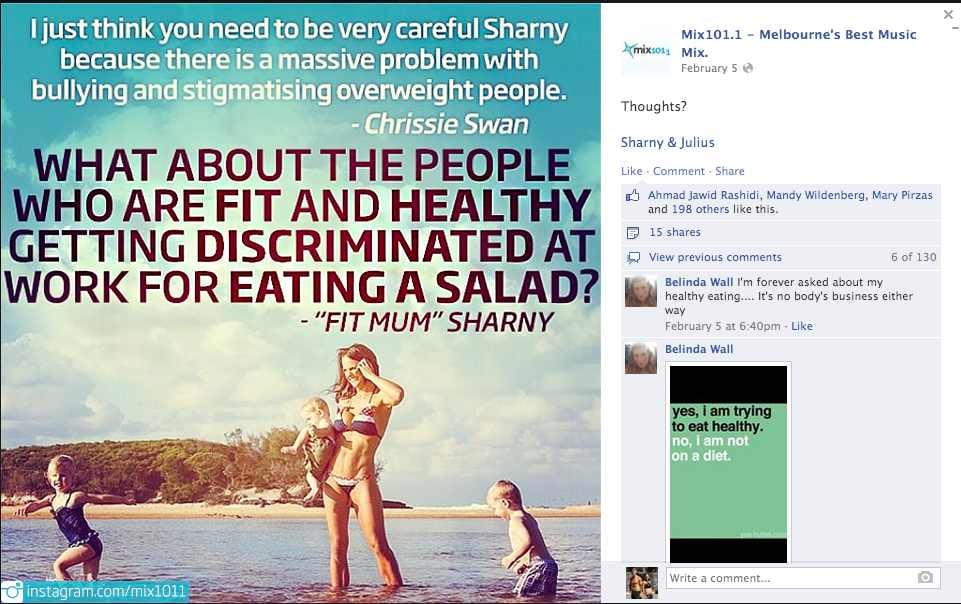 CS: [interrupts] What about all the people that look like normal people that don't take their kids to the park?
SK: Again yeah, they're lazy, I absolutely agree with that.
CS: I just think you need to be so careful Sharny because there is a massive problem with bullying and stigmatising overweight people.
SK: [interrupts] And what about people who are fit and healthy that are getting discriminated against at work because they're eating a salad?
CS: [interrupts] Well that is a massive minority!
SK: It isn't a minority, it's huge, we get emails about it all the time.
CS: Well that is ridiculous! That is a ridiculous argument.
SK: It's not a ridiculous argument. We get emails all the time from people who get embarrassed when people say 'Oh come on, have a pie, have a Tim Tam, it's not going to do anything.
Jane Hall (MIX FM co-host): Really? I've never come across anything like that.
CS: Well that's absurd. Anyway, I just want to say, be very careful, there are a lot of people that are not busy when they are overweight. This sort of mindset and discrimination is leading to all sorts of bullying in our schoolyards. It concerns me greatly that parents such as these two are saying things like 'fat people are lazy' 'fat people are stupid' 'fat people are less than' and this is not helping. That's my concern. This is not helping anyone.
Which side of the debate do you agree with? 
FROM OUR NETWORK