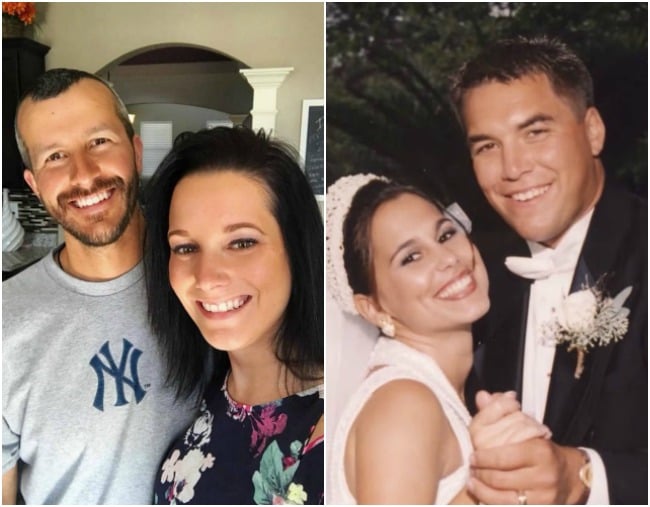 A day after his pregnant wife and two young daughters went "missing", Chris Watts stood outside his family home and begged for their safe return.
Within days, the Colorado man was in handcuffs.
The bodies of his pregnant wife Shannan, and daughters Bella, four, and Celeste, three, were found submerged in crude oil vats on a property owned by Watts' then employer, Anadarko Petroleum; one of the largest oil and gas drilling companies in Colorado.
The trio had vanished from their Frederick home on Monday August 13, some time after a friend dropped Shannan home at 2am, following a work trip.
In local television news interviews the following day, Watts claimed Shannan told him she was going to visit a friend later that morning and had never returned.
"I don't know what to do right now. I just feel so alone in this house right now," he told Fox31. "In my heart, I believe that she is somewhere and I hope that she is safe."
When questioned by police, 33-year-old Watts initially claimed he killed Shannan "in a rage" after he witnessed her strangle their youngest daughter to death.
After police discovered Watts was having an affair with his coworker, a woman named Nichol Kessinger, he quickly changed his narrative.
Watts' story is gruesome and disturbing, but it's not unfamiliar.
On December 24, 2002, Laci Peterson was reported missing. The Californian woman was seven-and-a-half months pregnant with her first son, who she and her husband, Scott Peterson, were planning to name Conner.
When questioned about his whereabouts that day, Peterson said he had traveled to Berkeley Marina in Richmond to go fishing on his boat. Detectives were immediately concerned by Peterson's cool and calm demeanour and he quickly became a suspect in the case.
On January 17, 2003, it emerged that Peterson had engaged in numerous affairs. At the time of his wife's disappearance, Peterson was in a relationship with a woman named Amber Frey.
Frey approached police and told them she had been dating Peterson for several months but she had no idea that he was married. Frey, a single mum, then agreed to let the police record her subsequent phone calls with Peterson in the hope of getting him to confess to his wife's murder.
Frey later wrote a book, Witness, about her experience of helping the police to prosecute her boyfriend. The book quickly became a New York Times best-seller.
On April 13, 2003, the remains of a late-term male fetus were found on Richmond's Point Isabel Regional Shoreline, just north of where Peterson had been fishing on the day of Laci's disappearance. The next day, a partial female torso missing its hands, feet, and head was found in the same area. The bodies were later confirmed to be that of Laci and her unborn son.