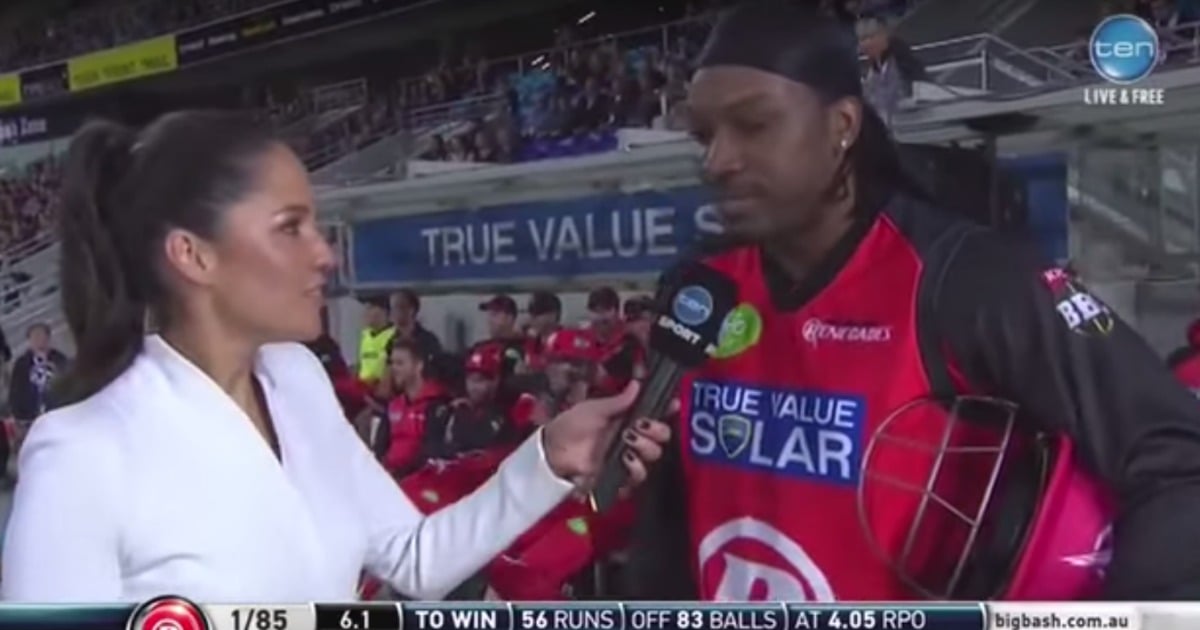 Well if we weren't sure before, it's now abundantly clear that Chris Gayle doesn't think he did anything wrong.
Earlier this month Gayle caused controversy when he asked Channel 10 reporter Mel McLaughlin to have a drink with him during an interview.
"Don't blush baby," he famously told her as she tried to steer the conversation back to cricket.
Now Gayle's Big Bash season has wrapped, and he may not return to the league with officials considering a ban.
After playing a blistering final game on Monday night, he fired a parting shot on his Instagram account.
It's pretty clear that he didn't really mean it when he said he was sorry.
"The real ppl who stand by Gayle worldwide through the so call BS against me in the media, Thank You! To the MEDIA, Thank You all so! The Haters, I Thank you even more," he wrote in the lenghty post.
Gayle also said that he had been receiving private support from Australian cricketers, who had not publicly backed him.
"I think a lot of past and present cricketers who smile in front my face could've have there say In the public when my so call issue was going on, but y'all don't have the BALLs to stand firm when it matters – but yet when u see me you're like, Chris that's BS against you, it was blown out of proportion ???? smh…don't tell me, tell the media and public!"
So there you have it.
Gayle is not actually sorry, and apparently there are some Australian sportsmen who think he has nothing to be sorry for.
Watch the exchange that caused all the controversy: