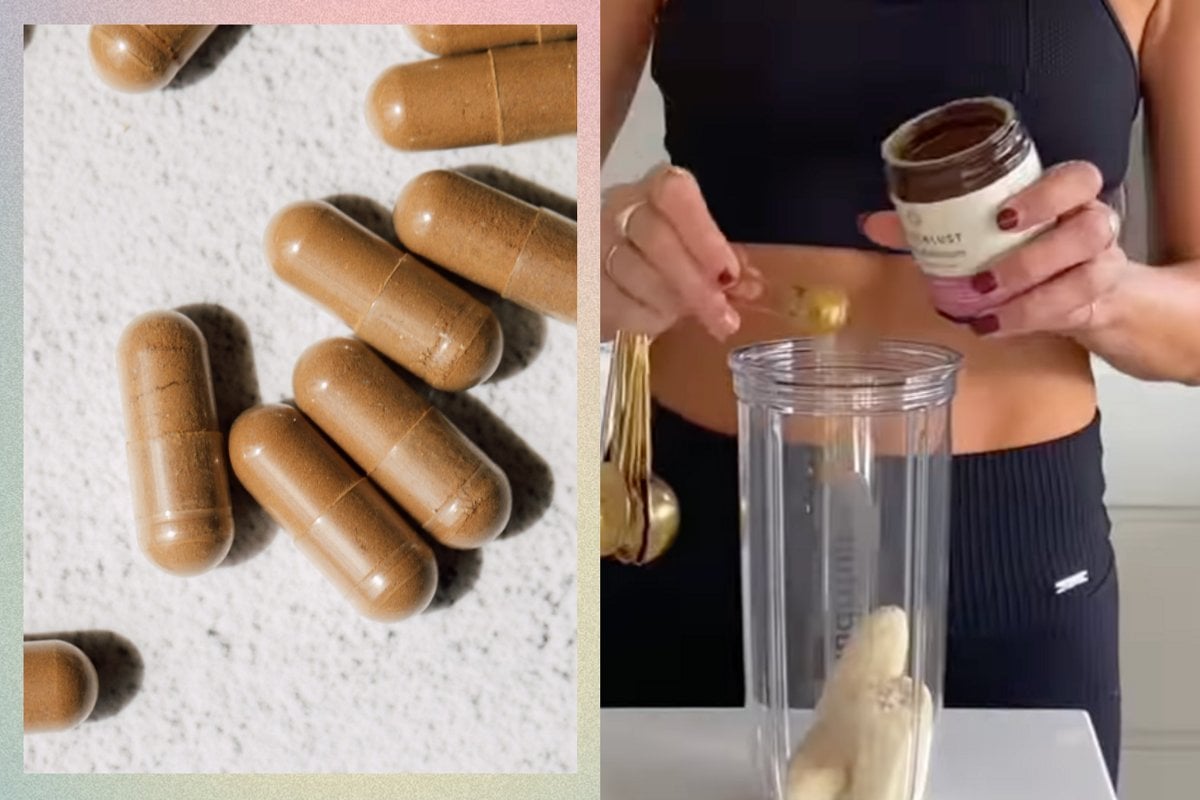 With Australians becoming increasingly more proactive in their approach to their health and wellbeing, the rise in popularity for the cleaner living (and beauty) movement has been tenfold, alongside an increase in demand for particular health products like supplements. 
Though not all supplements are created equal. Health and supplement brand, Wanderlust, is breaking new ground with their 100 per cent plant powered supplements, offering cleaner supplement alternatives. But frankly (for novices like me at least) this realm is still a bit... confusing.
So, for those of us who aren't completely in the know about what exactly there is to know about supplements, Mamamia spoke with Naturopath Cheryl Goodman to find out.
And we started right at the very beginning.
What exactly is a supplement?
"Supplements are just that – supplementary to your everyday life, and designed to support your diet and lifestyle choices," says Goodman.
They are there to assist us with our general health, and can also help with a myriad of ailments and concerns, supporting your mind and body. 
"Importantly, in Australia most supplements are considered medicines, and regulated by the Therapeutic Goods Administration (TGA)," she adds.
What can supplements actually help us with?
"Nutritional supplements are particularly helpful if you're not getting enough through your diet to meet your needs, especially if you're going through a period of time where your requirements might be heightened," Goodman explains. 
For myself, as a resident Victorian, this may include not getting enough of the sun's natural vitamin (thanks winter), Vitamin D.
"Vitamin D is exceptionally important for immune, bone and mental health. We actually get most of our vitamin D through sunlight and small amounts in our food intake. So, [in winter] it would be beneficial to take a supplement."
In addition to nutritional supplements there are also herbal supplements, and these work a little differently, acting as more of a "support" to your "individual needs and health goals," says Goodman.
Each medicinal herb has its own unique benefits depending on its phytochemical makeup and function. 
"Turmeric, for example, helps with inflammation; Ashwagandha is an adaptogen that supports the body's stress response; St John's Wort is well known for mood and emotional balance; Brahmi for brain health and memory; Cramp Bark for muscle health and Echinacea for cold & flu; just to name a few." 
What things should I check before introducing a supplement? 
Goodman says "when choosing which supplements you would like to take, look at your lifestyle, listen to your body and identify a few health goals that are important to you. Then look for supplements to address those health goals."