This is a story you wish never had to be told.
It's about an ordinary Australian family who experienced an unimaginable tragedy six years ago. One you probably read about back in 2009. The kind that changed every aspect of this family's life, forever.

And now, just when they were finding their feet and adjusting to their new normal, tragedy has struck again.
On November 9, 2009, Ben was finishing up a work assignment in London when he received a phone call from Sydney. His wife Chloe and her father, Nick Waterlow, had been stabbed to death in their Randwick home by Chloe's brother Anthony.
Ben and Chloe's three young children Will, 4, Ruby, 3 and James 4 months were there during the attack.
Anthony Waterlow had been suffering from schizophrenia for many years. He had a long history of violent behaviour and psychotic symptoms but according to court documents, he didn't believe he had a mental illness.
In a matter of moments on an ordinary weekday afternoon in the lead up to Christmas, the Heuston-Waterlow family was blown apart.
Baby James was still being breastfed when his mum was killed. Three year old Ruby suffered injuries to her face in the attack and was hospitalised.
The little girl recovered quickly from her physical wounds and returned home in time to join her father and brothers for Chloe's funeral and the funeral of their grandfather Nick.
At the service, Chloe's childhood friend Alix Johnson read a letter Ben wrote to his beloved wife:
"The Chloe I hold in my heart always had a smile, a laugh. Her generosity was legendary. That wasn't to say that the Chloe we loved couldn't frustrate. Common Sense was not her forte and her concept of time was notoriously elastic, but her natural charm won us all over. Ruby is clearly her mother's daughter. Chloe was my best friend. We enjoyed our holidays with or without the kids. Will was already looking forward to our next beach holiday and I will cherish the memories of Mexico always. We all love you now and always. Ben."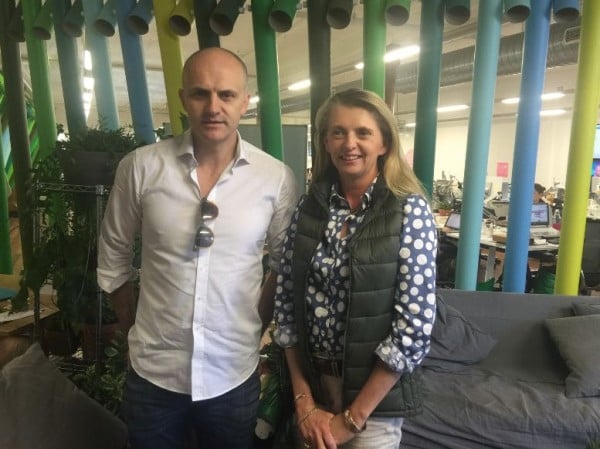 Above: Ben Heuston with his sister Penny
During this whole time, in fact for 18 days after murdering his sister and father, Anthony Waterlow remained in hiding. He was eventually captured near bushland after an armed stand off. He was later found not guilty of the murders of Chloe and Nick due to his mental illness.
He has been in a psychiatric facility since his arrest.
Anthony's story is one for another day. This story is about Ben, his three children and the life they had to rebuild from the rubble after Chloe was ripped from their lives so brutally.
From that horrific moment, the community, friends and Ben's family of strong women – especially his sister Penny, their mother and aunt -  dropped everything to rally around him and help take care of Wil, Ruby and James. There was so much to do.
Spreadsheets were created to keep track of all the friends and volunteers. The children's godmothers  – nicknamed Chloe's Mafia – have all been regulars in the house, doing what needs to be done and enveloping the kids in stories about their Mum to help keep her memory alive for them.
Wrapped in the nurturing care of so many, enduring the troughs and peaks of grief and love, slowly, slowly, the Heuston family's life returned to something resembling normal.
As normal as it could ever be without Chloe as its beating heart.
And then, in November 2015, their world shifted, again.
It's forced Ben Heuston to make the difficult decision to speak publicly about his family and their situation because they need help.  This week, Ben and his sister Penny came into the Mamamia office to sit down with me for a special episode of my No Filter podcast.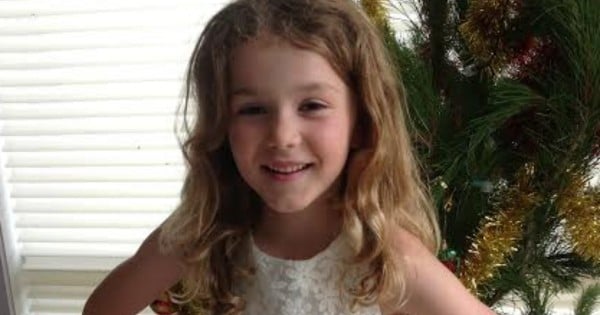 This was his first - and he says his last - media interview.
Listen to the full interview here. 
He's never spoken publicly about Chloe, not since her funeral. He is an intensely private man who is fiercely and understandably protective of his young family. But the latest chapter in the life of the Heuston family has meant that Ben has taken the difficult decision to talk, just once. Because he needs our help.
Just before her 9th birthday, Ruby Heuston became unwell. Concerned, Ben took her to hospital and within 24 hours was diagnosed with Acute Lymphoblastic Leukaemia. It's the most common type of childhood cancer but Ruby had an aggressive form of it.
"The symptoms of Ruby's type of leukemia, ALL, are tiredness, headaches, bruising and vomiting," explained Ben's sister Penny Heuston to me in our interview where she sat beside her brother and helped tell his story when it became too painful for him to continue.
"And so the whole school had had vomiting, gastro was going around and she'd had some headaches two weeks prior. There were no big alarm bells to say there is something wrong with this child. But my aunt had the sense that something wasn't right - so Ben took her in to the children's hospital on the Thursday night."
Almost immediately, Ruby suffered a cerebral haemmorage and Ben was told to bring the family in to say goodbye.
Haltingly, Penny continued: "And then we got the phone call to go and say goodbye, so it was one day. A one day time frame. It was unbelievably quick."
Ben nodded. "She walked into hospital one night, and she woke up the next day and she was blind and they said 'she's going to die'", he says, his voice breaking with emotion.
Miraculously, Ruby survived. For a terrifying period of time though, she was unable to move or talk and they didn't know what damage the haemmorage had caused.
She spent a month in intensive care, learning to walk again. 114 days and nights in hospital.
Now Ruby has finally come home. But she has been left permanently blind.
It's almost impossible to comprehend how one family can suffer so much, so unfairly but Ben quickly brushed off the idea when I asked him, "Do you ever think 'this just isn't fair?'"
Never.
"In the place where I come from, and the family I've been in, you just have to get on with things and move forward. And what choice do I really have? If you think negatively about life it's going to be a pretty sad experience going forward."
"There are always things that don't go well," he insists. "Its how you deal with it. You've got to be kind of positive"
But how do you do that?
Penny interjected: "There is a positive side to it. We HAVE Ruby. We are very lucky that we have a Ruby who is an incredibly strong individual."
It clearly runs in the family.
While Ruby's leukaemia is treatable and her prognosis is good, she will be in and out of hospital until 2018, when her chemotherapy will hopefully, finally be completed.
Meanwhile, this little 9 year old girl who has battled so much, now has to learn how to live in a world without her sight.
And Ben has a whole new mountain to climb.
He can't do it alone. He has to work to support his family and the costs for Ruby's rehabilitation are enormous.
And while the support and volunteers among family and friends have been – and continue to be - a life raft for the Heuston family, Ruby's doctors have told Ben that her rehabilitation is hampered by the well-meaning rotation of family and friends and carers looking after her.
To make real progress, Ruby needs one single carer with her every day to oversee her treatment and hospital visits. It's what her mother Chloe would do if she were here. It's what Ben can't do because he has to work every day to support his family.
Imagine how that must feel.
That's why he's decided to go public with Ruby's story, at the urging of family and friends. To ask for our help.
According to Ben and Penny, "Ruby is a beautiful young girl: courageous, vivacious, funny, inspirational and keen to live life to the full. Every day she tries not let herself or others down. She loves being read aloud Harry Potter, singing to Taylor Swift, dancing to Jesse J, giggling over pizza with her friends, playing the ukulele and creating mischief with her brothers. Her latest goal is to run for Australia in the Paralympics."
Please visit the fundraising page here that has been set up to help pay for a full-time carer for Ruby.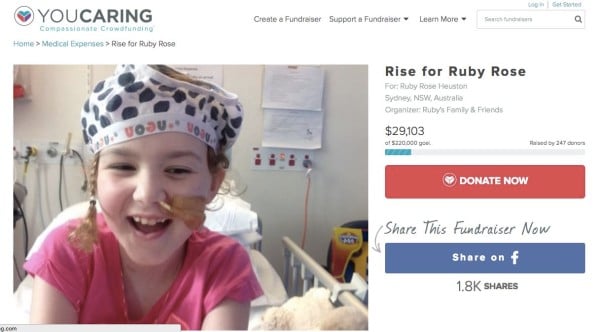 Any donation you can make will be so wholeheartedly appreciated.