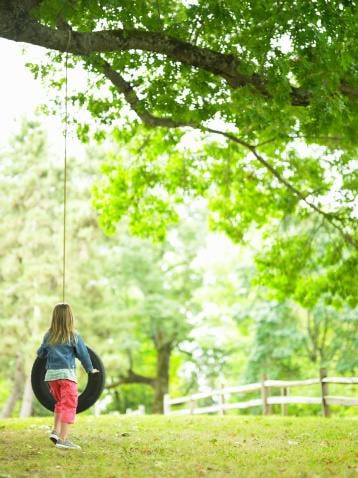 "Can't you read?" she screams. My eyes close for the three seconds it takes to prepare for whatever is to come next, and to consider how I might deal with it. I look across the playground and spy the target; 40 metres away an elderly woman, the kind who still wears a hat and tweed coat, is walking with her fluffy miniature puppy. I'm racking my brain now. What is she doing wrong? She is not trespassing, not littering, not jay walking…
"I SAID" the voice bellows, "Can't you read?" The elderly woman stops and looks over at us. "The sign clearly says 'No Dogs Permitted Off The Lead' You should be in jail!" The woman looks horrified for a brief moment, then registers that the booming authoritarian voice belongs to my angelic doll-eyed, then 4 year old daughter.
I attempt to give the woman a 'kids say the darndest things' smile, and she seems to accept this. I guess at what she is thinking, or will be talking about with her neighbour back at home though, "How rude" or "How peculiar that a child should be so concerned about my little dog" or perhaps "How would a child that age even know how to read that sign?", and of course, "What sort of mother has she?" There will be plenty of tongue clicking.
My own thought is stock standard: If only I could smile, say 'Asperger's' and all would be understood.
Children with Asperger's can be 'little policeman' and are sticklers for rules. Rules that actually exist and their own rules they create in their minds to make sense of this alien world they have been dropped into.
In retrospect, I should have known my daughter wasn't typical years before The Diagnosis.
She is two years old, a healthy toddler visiting a doctor for the first time, for a cold just a little more serious than others. "Now I'm just going to use my shiny bobbler to check how you are ticking" he explained in the experienced way doctors have of placating little ones who may not comply with examination. My girl sets him straight, "It's a stethoscope, Dr Wilson. You are using it to measure my heartbeat". We laughed, no humouring her! I recounted this scenario to friends and family. "Where do they pick these things up?"