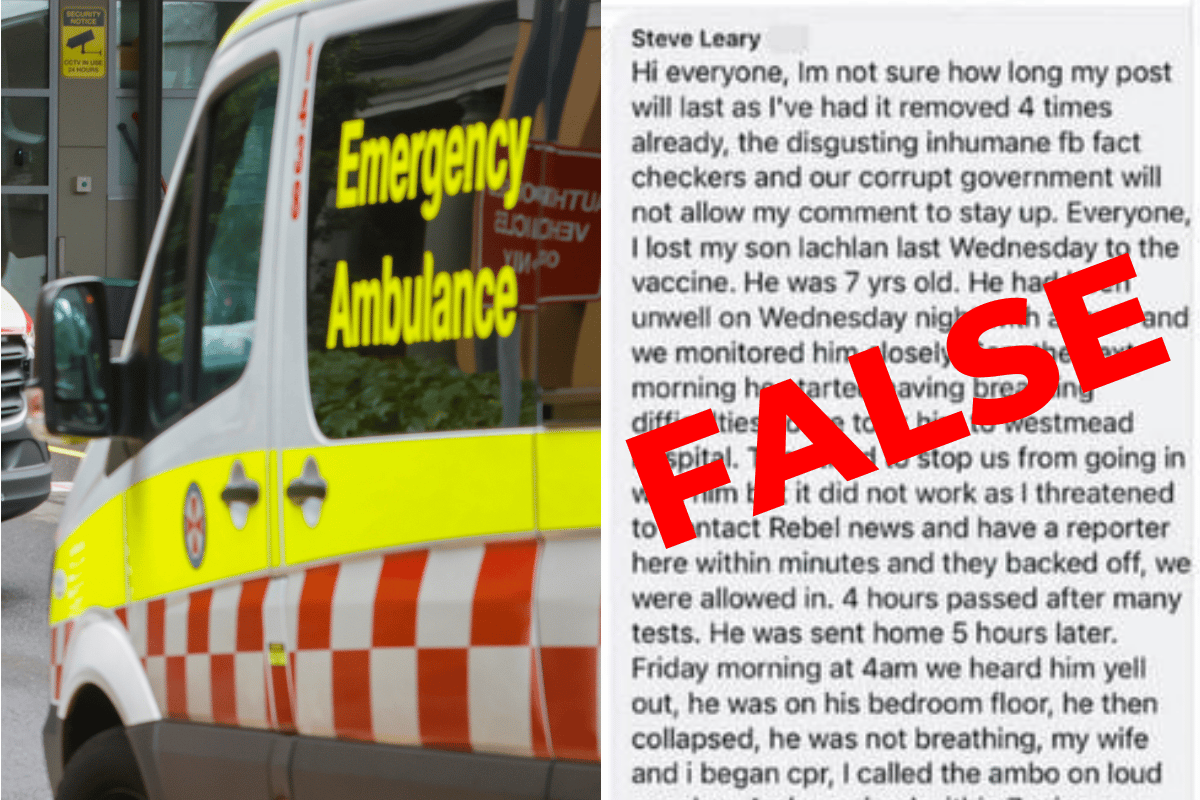 Earlier this month, a Sydney father shared his seven-year-old son died of a "massive heart attack" days after receiving his COVID-19 vaccine. 
"Friday morning at 4am we heard him yell out, he was on his bedroom floor, he then collapsed, he was not breathing," the man wrote in a viral Facebook post under the name 'Steve Leary'. 
His words were liked and shared by thousands. But according to experts, none of them were true.
In the now deleted post, Leary claimed his son, Lachlan, experienced a fever and breathing problems after receiving the vaccine and was taken to Westmead Hospital.
Five hours later, he was allegedly sent home where he collapsed the following morning. 
"My wife and I began CPR, I called the ambo [sic] on loud speaker. Ambo arrived within seven mins [sic]. My son passed away in the ambulance. He had a massive heart attack," Leary wrote. 
"The government has ruined my family, they have taken away our only son."
However, there is no record of a Lachlan Leary who died last week, 7News reports. NSW Health told the publication it "has not been able to locate any record of any such incident".
The Therapeutic Goods Administration also said it "has not received any adverse event reports involving the death of any children aged between 5 and 11 years".
The Children's Hospital at Westmead also addressed the false claim on Facebook, writing, "There are many inaccurate posts currently circulating on social media. There is no record of any child having passed away following COVID vaccination at our hospital." 
Leary's identity has also been thrown into question after news sites around the world ran the story alongside a picture of Steve Leary, a man from the United States who formerly served as mayor of the city of Winter Park in Florida.
Unfortunately, this isn't the only time false reports of COVID-19 vaccination-related deaths in children have circulated online in the past month. 
Last week, NSW Chief Health Officer Kerry Chant's official Twitter account had to be shut down after it was used to fake posts claiming three Australian children had died as a result of the vaccine.
"Great result from the children's roll-out, only three deaths linked and 106 adverse reactions out of 377000 vaccines," the post, which appeared to be written by Chant, read. 
"I would say that is a better result than expected."
In a statement, a NSW Health spokesperson said the post, which circulated on Twitter, Instagram and Facebook, was fabricated and incorrect.
"NSW Chief Health Officer Dr Kerry Chant did not author the tweet or the Instagram post attributed to her and the information contained in both of them is incorrect."