It's a dilemma many parents face.
You notice pimples on your child's face. You're concerned and want to help, but they haven't said anything to you about it. Do you mention it or leave it, for fear of making them self-conscious if it's not bothering them?
"Bring it up sooner rather than later. The longer you leave it, the harder it gets," says Professor Rodney Sinclair of Melbourne's Sinclair Dermatology.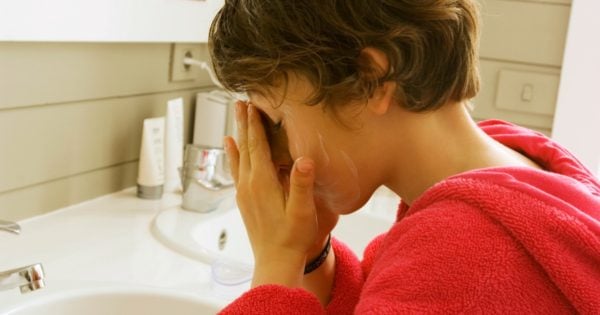 "The aspect of acne that's irreversible is scarring, so if they are getting scarring then it's automatically time to bring it up and arrange for them to be seen [by a GP].
"Other times when they need to be seen is if it's causing them distress."
Often it's a fear of embarrassment that prevents kids from talking about their skin problems, even if it is bothering them.
"When you talk to pharmacists, the number one item shoplifted is acne treatments. Kids get embarrassed but it really shouldn't be a source of embarrassment, it's pretty much a universal problem."
Listen: More parenting dilemmas? Listen to our podcast This Glorious Mess. Post continues after audio.
Dr Sinclair says a casual approach is fine.