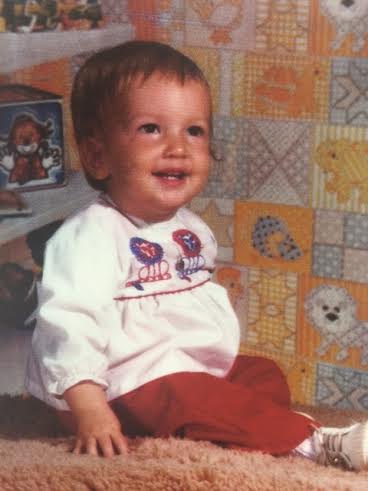 Trigger warning: This post is about child sexual abuse and may cause distress for some readers.
Carrie Bailee has survived some of the darkest, most brutal types of trauma imaginable – but now, she's speaking out about the unspeakable.

"Two photos from my fourth birthday, clearly not a particularly happy day – note where my hands are placed in both shots," Carrie writes. (Photo: courtesy of Carrie Bailee)
Born on a small island on Canada's eastern seaboard, Carrie, now 39, was abused by her father from the age of four, and was sold by him to members of a paedophile ring when she was just nine years old.
Some nights, her father would wake her in the middle of the night and place her in someone's car; on other occasions, the horrors were perpetrated upon her and other children in a basement by a group of men.
(Photo: courtesy of Carrie Bailee)
"You know, to this day, I refuse to have my photograph taken with a polaroid camera," she writes of those horrific nights. "They would stand there and fan the images in their hands and wait for them to dry and then they'd gather around and watch as the picture appeared.
"My God, I can still smell it."
The abuse Carrie suffered until the age of 14 was so severe, she was granted a special refugee visa to enable her to live in Australia – and as soon as she arrived, as she writes in her new book Flying on Broken Wings, she became determined to never again be powerless.
"My life didn't really begin until September of 1996, one month before my twenty-first birthday, in front of the international departures gate," she says. "Yes, I'd been alive for two decades, but I couldn't help feeling I hadn't lived until then."
Eighteen years later, Carrie's attention is focused on raising awareness of severe forms of child abuse that exist in our own backyards – and inspiring and empowering other survivors.
"Maybe rock bottom was where I had to plummet, to summon the strength to step into my power and realise that I did have an important message to bestow upon others," she says. "No matter the trauma, the ability to overcome and rise to the greatest of heights is a possibility."
Trauma — and rising above it — are difficult themes to tackle, but with the release of her memoir this month, she says "people are actually getting  the message".
Carrie Bailee. (Photo: courtesy of Carrie Bailee)
"What's resonating with people is just the message of hope and resilience, and that if I can do it, they can do it," she tells me in a phone interview from Melbourne, where she now lives.
"I've had (survivors) say they're in the process of going through court. And it's so horrific, but people tell them they don't want to hear about it," she says. "It's in the dark. And people just want to keep it there because it's a shameful, horrible topic."
She also stresses the importance of having a sympathetic ear as a step toward recovery.
"I think every single one of us just wants to be heard, to be seen for what we are," she says, adding that for "people who have endured such sexual abuse, horrific abuse, losing the shame is probably the first, the most important step to reaching out and healing."
The process of writing her book – as well as the performance of her spoken-word poetry – has "absolutely" been empowering for her, too.