WE HAVE GOOD NEWS, EVERYONE!
Your days of wondering, "Does this fitness blogger really have one million followers?" are over. Now, checking precisely how many of an Instagrammer's followers are real, compared to how many are fake, is just a click away.
And it's all thanks to a nifty site called FollowerCheck (five stars for name creativity).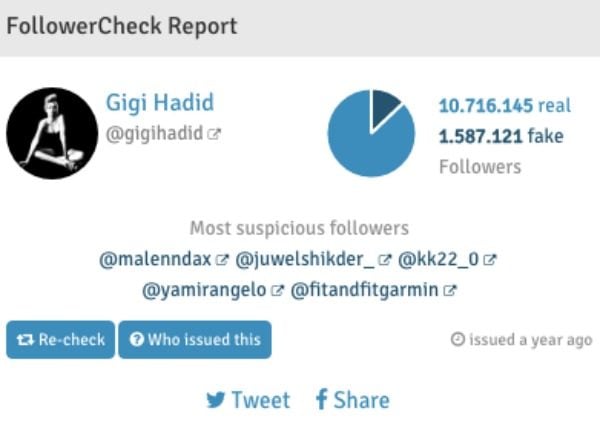 The website, which takes a random sample of 150 Instagram followers for a user and calculates a score for each follower, gives an estimation of how many of a person's total followers are, you know, robots.
How is this possible? So glad you asked.
Analysing the profile completeness and ratio of followers to followed across the 150 profiles, FollowerCheck can make an educated estimate as to who is a real Instagram follower, and who is a bit dodgy.
Of course, this can be the case when it comes to those pesky porn accounts, but it can also be the case if someone decides to *buy* followers to increase their perceived popularity and influence. (Yes, if you're putting an "influencer's" username into the generator, you might find a great deal of their followers are illegitimate.)
The same goes for big-name celebrities, like Justin Bieber and Selena Gomez, who probably haven't purchased a follower in their lives, but are unknowingly targeted by a heap of fake accounts.
You should be warned, though, this is a seriously addictive process.