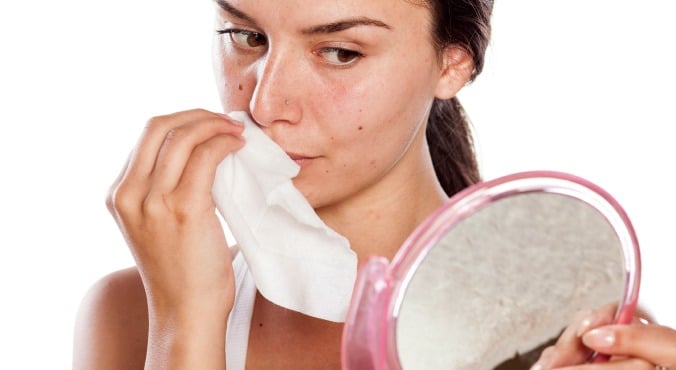 Image: iStock
Facial wipes are the Robert Downey Jr of skincare. You know you shouldn't love them but you just can't help yourself.
But I'm calling it: it's time to stop shaming those of us who solely cleanse using facial wipes, because at least we're doing something in the face washing department, okay?
Sure a simple skincare routine might involve just three or four steps, but that's three or four steps we're not willing to indulge in at 11 at night. We might be inherently lazy or we might have several dependant small beings requiring our attention for 20 hours of the day.
Your favourite '90s beauty product is baaaack

Either way, facial wipes are the one thing that's keeping our skin semi-clean and preventing our pillows from being mascara smudged. I think it was Braveheart who said, "You may take our exfoliators and serums, but you'll never take our cleansing wipes!"
I'll stop now, possibly because I'm preaching to the converted. You've landed here because you want to know which brand has one of the highest sellers of facial wipes in the world. And I don't blame you, I'm always in search of a more hydrating skin de-greaser.
There are 10 types of exercisers out there. Which one are you?

It might surprise you to learn that the brand that sells one packet of their facial wipes every 15 seconds is not one of the big beauty giants. This brand creates natural skincare that is free of parabens, petroleum, phthalates and sodium lauryl sulfate, and their packaging is made with recyclable materials. Already convinced? Then say yes to Yes To.
Yes To have been adding to their vegetable lineup since the first carrot range dropped nine years ago, but I've fallen hard in wipe lust (that sounds bad, doesn't it?) with their new coconut collection.
Call it a throwback to a time when it was socially acceptable to lather your kids in Reef Oil and let them play on the beach for hours, but I cannot get enough of Yes To's Coconut scent right now. The tropical-but-not-sticky formula whisks you away to Fiji or Hawaii every time you swipe it across your mug, which as you now know is nightly.
Yes To Coconut Hydrate & Restore Cleansing Wipes 
How much: $7.99
Where to buy: Priceline, Blooms, Amcal, Guardian and selected stockists. Visit www.yestocarrots.com for more info.