Channel Nine has gone to extreme lengths to defend the network's decision not to give Lisa Wilkinson a fair salary package, one that would match her co-host Karl Stefanovic's.
Splashed on the cover of The Daily Telegraph today, CEO Hugh Marks claims he went to "an incredible amount of trouble" to create the package she was allegedly offered. It is highly unusual for a CEO to publicly comment on contract negotiations, particularly high profile talent.
"I went to an incredible amount of trouble to build that ($1.8 million) package for her. She wanted $2.3 million. It wasn't a $200,000 shortfall to (Karl's) $2 million magic number. It was $500,000."
"We could invest that money in junior journalists coming in to the business".
With one evening tweet on Monday night, Lisa Wilkinson announced she wasn't returning to Channel Nine's flagship morning show TODAY.
A press release simply stated that contract negotiations were not successful. It followed a News Corp columnist's assertion, just a day earlier, that there was a large gender pay gap dividing Lisa and her co-host Karl Stefanovic. And that magic number was causing trouble.
That number was $500,000, according to Marks. Keeping in mind that, from the outside, we will never know the full details of the offer discussed behind closed doors.
It's a reported figure that has lost Channel Nine one of their star talents and resulted in, what can be argued, a titanic PR disaster for the TV station. The powers that be may now have a very different view of what $500,000 can buy you.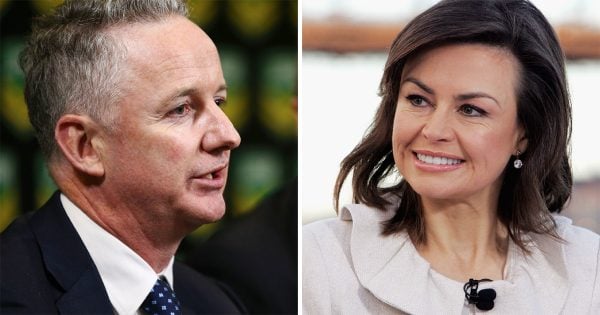 "The reason we walked away from Lisa is because we are not able to secure those rights (across all areas) with her," Marks told The Daily Telegraph.
"She has a number of commercial rights with other parties. Her arrangement with The Huffington Post restricts our ability to engage with her digitally ... We are ­restricted from engaging with her also on social media."
Marks told the newspaper he "hates the fact we have to compare her with Karl (Stefanovic) but with him we have all those rights. With Lisa we do not".
This came alongside information on Stefanovic's other duties at the network, including hosting the high-rating This Time Next Year and occasional reporting on current affairs flagship 60 Minutes.
But, while we're comparing Wilkinson with Stefanovic. Why don't we look at some other comparisons.
That, when Stefanovic's popularity ratings plummeted earlier this year after he divorced his wife of 21 years and began dating a woman 10 years his junior, Wilkinson's ratings improved, The Australian reports.
That, when Stefanovic took some breaks from Today in early 2017, the program's viewership rose under Wilkinson's helm.
That, according to an "industry insider" who spoke with The Australian, Wilkinson has been "putting her hand up and saying 'Let me do something in prime time'" for the entirety of the negotiations.
That, when a man who is successful and talented and at the top of his game leaves one job to seek better pay at another job, he is not blamed.
There is no public talk of "his expectations".
Or that "we worked hard for that pay package".
Or that he was "demanding $500,000".
Or that "I hate to compare him to so-and-so... But I will anyway".
No, when a male executive leaves a position to take another better paying position the world shrugs it's shoulders and moves right along because that's what's expected.
It's only when a female does the same thing that questions of greed, and the jobs of junior journalists, and loyalty to the company, come into play.
Wilkinson was tight-lipped at first. She simply released the statement from Channel Nine about "meeting her expectations" alongside a Tweet that said 'good bye'.
It's been the public, along with local politicians, fellow journalists, and Australian celebrities, who've stood up for Wilkinson and her right to be paid the same as the man who's sat beside her every morning for 10 years.
And those voices and viewers are not happy at all with Channel Nine.