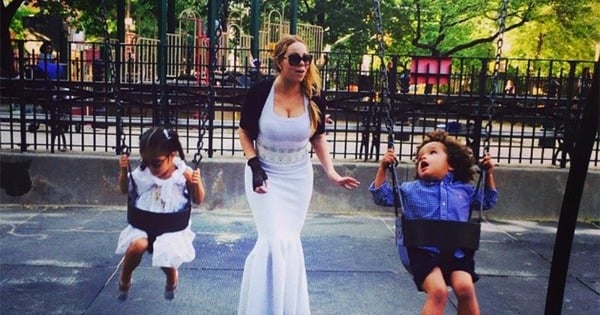 There's a new benchmark for what it means to be a 'good' mother and here it is: you can't have any help. And if you do, you must lie about it. Specifically, you must say "I don't have a nanny".
This is compulsory if you want to be considered anything other than a neglectful shrew who shirks responsibility for taking care of her own kids.
Announcing that you have no nanny has become the new humble-brag, particularly from celebrity mothers.
And, frankly, it's bullshit.
I was reminded of this today when I heard what my favourite comedian Ali Wong said in an interview this week about being a new mum.
Fred Armisen: How do you balance family and career?

Ali Wong: How do I balance family and career? People ask me that all the time. Men never get asked that question because, they don't. They just ignore the child and that's perfectly, socially acceptable.

But dads get so much praise for doing so little. My husband occasionally changes diapers and people, they can't believe it. They're like, Oh my gahhhd. I cannot believe that your husband changes diapers. What a doting, modern father. When my baby girl was first born, I would do skin-on-skin contact to bond with her … she'd shit on my chest. Where's my trophy at?

Real talk: This is how I balance family and career — I have a nanny. Yes, I have a nanny and then I work my ass off to pay for the nanny. She's $3,000 a month so I gotta hustle. My husband and I, we both got to work very hard to not take care of our child ourselves. Thank you.
I love this because it's true. All of it. Especially the part where she takes comedic aim at the people who believe having a nanny is somehow an abrogation of your responsibilities as a parent.
The nanny not so Insta-sharable.
Ashton Kutcher: "We just want to know our kid. We want to be the people who know what to do when the baby's crying to make the baby not cry anymore. I think the only way to do that is by being the one who is there."
Eva Mendes: "I'm a very hands-on Mom. I don't have a nanny. No matter how tired I am, I just do it."
Nick Cannon (when married to Mariah and raising their twins): "Nah, we're not for all the nannies and stuff. No offence to anyone who is but my wife wants to be as hands-on as possible"
[If you want more here is a handy list of 15 celebrities who have (pretended) they have no nanny]
I would really like someone to do the math here. If you work outside the home and you are lucky enough to have a partner and he/she is lucky enough to also be employed outside the home…….someone has to take care of the kid(s) during the hours you're both working.
And if you're a celebrity who has to go on tour and spend months on tv and movie sets or recording studios, how is it physically possible (unless your partner is a full-time, stay-at-home parent) that you don't have any help?