OK. We get that breakups are a normal part of life, but why must they happen to couples we love so much?
It…. it hurts.
So far this year we've too many of our beloved celebrity couples call it quits, and we're still devastated. So devastated, we felt it necessary to take a look back over the last four-ish months of heartbreak.
We apologise in advance.
Jenna Dewan-Tatum and Channing Tatum
Channing Tatum and Jenna Dewan-Tatum were, for a time, the textbook definition of 'couple goals'.
They first met onset of the 2006 film Step Up and began dating shortly after, before tying the knot in 2009.
But after nearly nine years of marriage, earlier this month they 'lovingly chose to separate as a couple'.
The actors, both aged 37, share a daughter together, Everly, who will turn five in May.
Channing Tatum and Jenna Dewan were meant to be #couplegoals, but they've just broken up. So are couple goals bullsh*t? 

Sarah Roza and Telv Williams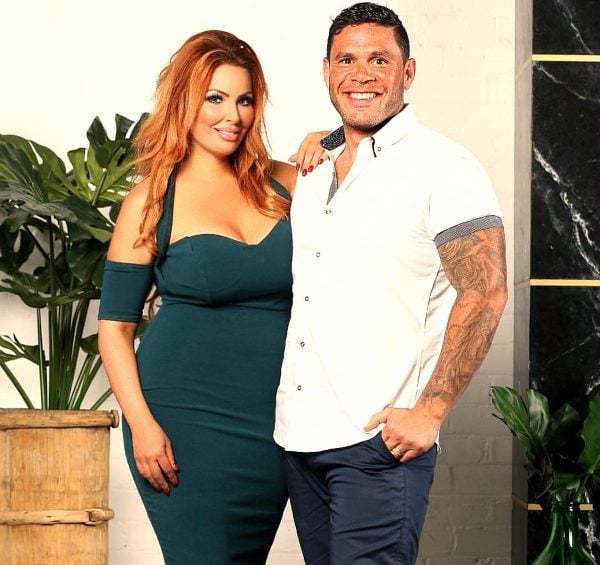 Sarah and Telv. Where do we even begin?
From the moment we laid eyes on them in the latest season of Channel 7's Married at First Sight, we thought this had to be the beginning of something special. And for a while, it looked like it was heading in that direction.
Until it wasn't. The couple appeared to be holding it together while the show was still on air, despite rumours that they had, in fact, already called it quits.
It wasn't until the final few episodes of the show that their split was confirmed.
Jennifer Aniston and Justin Theroux
Jennifer Aniston and Justin Theroux's marriage of less than three years ended in February. Aniston, 49 and Theroux, 46, first met in 2007 on the set of Tropic Thunder, but didn't begin dating until 2011. They were engaged in August 2012 and married in August 2015.
At the time of their separation, the couple released a statement saying 'they were two best friends who had decided to separate as a couple'. They have no children together.
Ruby Rose and Jessica Origliasso
Ruby Rose and Jessica Origliasso also split this year. The Pitch Perfect 3 actress, 32, and Veronicas singer, 33, had been dating since 2016, rekindling their romance from over a decade ago.
Ruby Rose announced the breakup on social media earlier this month, tweeting: "We still love each other very much."
Zoe Hendrix and Alex Garner
After three years together, Married At First Sight season one's Zoe Hendrix and Alex Garner announced they were splitting up just a few days ago.
Together they share a daughter, Harper Rose, and the couple says they will continue to co-parent the 17-month old.
Claire Foy and Stephen Campbell-Moore
Claire Foy and her husband Stephen Campbell-Moore announced their separation in February this year. The couple first met in 2011 on the set of The Witch and were married in December 2014.
The separation came just months after Campbell-Moore underwent major brain surgery to remove a tumour for the second time. The Crown star, 33, said at the time of their split that she remains great friends with Moore, 38, and they have the utmost respect for one another.
The pair has a two-year-old daughter.
Lena Dunham and Jack Antonoff
Lena Dunham and Jack Antonoff announced their split in January this year after five-and-a-half years together. The pair met on a blind date in 2012 and shortly after, Antonoff, 33, moved in with Dunham, 31.
Their breakup was reportedly amicable.
Alicia Silverstone and Christopher Jarecki
Alicia Silverstone and husband Christopher Jarecki announced their separation in February this year, after a 20-year relationship.
The couple, both aged 41, met in 1997 and were married in 2005. Together they have a six-year-old son, Bear.
Gigi Hadid and Zayn Malik
Gigi Hadid and Zayn Malik split up in March this year, after two years together.
Malik, 25, and Hadid, 22, who were once rumoured to be engaged, were the Hollywood 'It' couple. The pair started dating in November 2015, shortly after Malik's relationship with Little Mix Star Perrie Edwards, 24, ended.
Their split was amicable, and the two of them are said to remain very close friends.