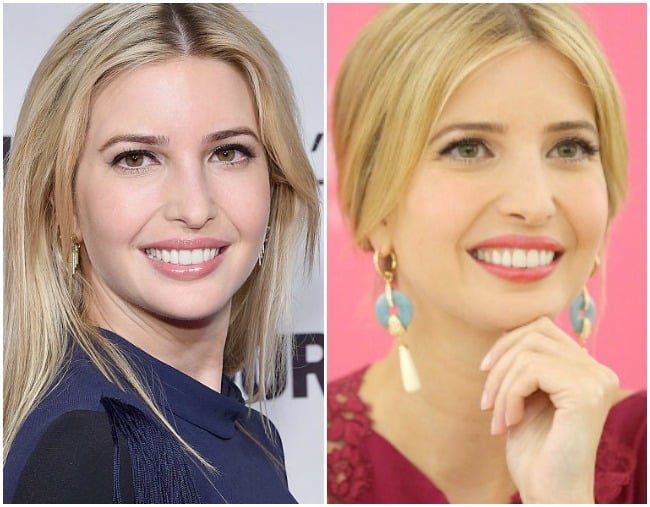 First, it was Ivanka Trump. A little-known theory began popping up around the internet from 2016 to 2017 that centred on what her real eye colour was. The First Daughter seems to go for a striking green/blue when she's appearing at "important" events but opts for her natural brown in her own habitat.
This week, watching an old Jennifer Aniston rom-com, I found a treasure chest of rumours about her natural eye colour.
Some very observant fans believe she began wearing blue contact lenses for her 2011 film Horrible Bosses. Prior to this, they say, she had brown eyes.
Let's go down the rabbit hole…
Please Google 'Jennifer Aniston eye colour' if you want to fall down a Bearstein/Bearstain style hole

— cha cha's most hated (@NicoleColbath) May 7, 2017
whatever jennifer aniston i know that's not your real eye colour

— emily (@sailordumb) June 26, 2013
Now, this theory has never been confirmed and old press shots from early seasons of Friends definitely show Aniston with blue eyes.
She also wears glasses, which seems like an odd decision if you have contact lenses in your eyeballs. Nevertheless, Aniston is hardly the first person to be "accused" of "unnatural eyes."
And whether or not her eye colour is a mystery, there are many celebrities who do fake it.
From Kanye West, who debuted blue eyes on the 2016 Met Gala red carpet, to Selena Gomez, who went through a hazel-eye phase a few years ago, it seems to be something celebrities do for a little while until they get bored of it.
But there are some, like Trump and Aniston (I'm not letting this go,) who have become extremely well-known for an eye colour that isn't their own.
Take Paris Hilton, for example. Her name is synonymous with blonde hair and blue eyes. But according to The Huffington Post, and a very well timed throwback photo Hilton herself just posted to Instagram today, her natural eye colour is in fact brown.
She started wearing light blue contacts at the age of 16.
And now she wears a slighter darker shade of blue…
… While also experimenting with hazel every now and again.
Angelina Jolie is another celebrity who prefers contacts for special occasions. The actor/humanitarian has naturally blue eyes but swaps these for striking green contacts at times.
I'm sorry, but if you don't think Angelina Jolie is flawless… do you even have eyes??? ???????????? pic.twitter.com/tpAacDdVxE

— Joel Barr???? (@barr_joel) February 26, 2017
Angelina Jolie's eyes pic.twitter.com/ZpXhGvpRg9

— Angelina Jolie (@joliestweet) February 27, 2017
And there are probably many others we don't even know about.
I don't know why this surprises me so much. I'm all for changing something about yourself if you dislike it—my own eye colour is "poo brown," but coloured contacts hurt and I'd probably look very silly with them in—but it seems like this is the last hidden beauty secret in Hollywood.
What's next, celebrities? WHAT'S NEXT?
We went to Mercedes Fashion Week to find out what their biggest fashion splurge is and woah.