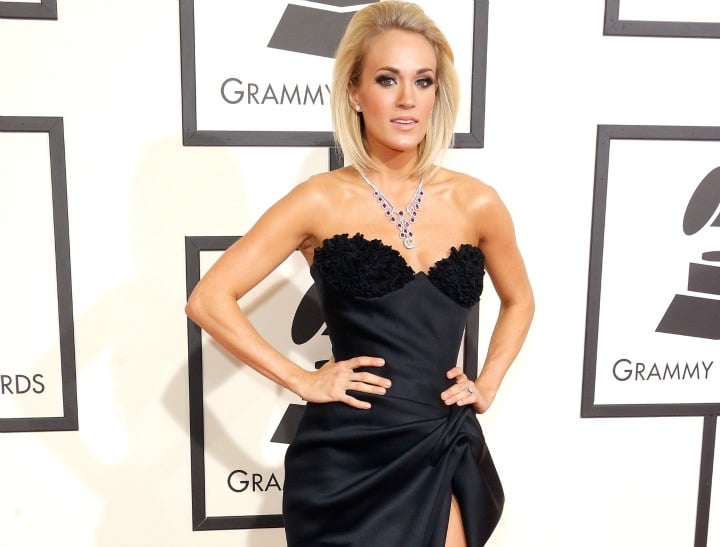 Carrie Underwood looked flawless on the Grammys red carpet last night after being on the road for her crazy Storyteller tour recently.
Carrie Underwood looking incredible. Image via Getty.
The 32-year-old was nominated for best country solo performance for Little Toy Guns but the mum-of-one says that her career is not her biggest achievement in life.
She told E! News that "being a mum" was her biggest accomplishment.
Underwood gave birth to her son, Isaiah Michael in March last year and is smitten with her first child and new little bundle.
"My little guy is the little sunshine in my world every single day," she told E!'s Ryan Seacrest. "He's back at the hotel right now. He's smiley and sweet and happy and … he's the best."
Underwood's husband,
Mike Fisher
with their little boy Isaiah (above) - looking very smiley, sweet and happy.
The country singing star also opened up to the entertainment publication about what her professional hockey player husband got her for Valentine's Day.
The bling she was wearing around her neck on the red carpet was her husband's gift of love; a Johnathon Arndt necklace.
Check out bling (Post continues after the video)...
"[I've been] wearing it for no reason. Like, I'm in my pajamas in my room hanging out, just wearing this for no reason...I'm not just gonna save it for red carpets. I've gotta put it on!'," she told E! News.
Well she's looking gorgeous, the necklace is gorgeous and it sounds like her baby is as gorgeous ever. Nailing it, Underwood.
What's been your biggest accomplishment so far?